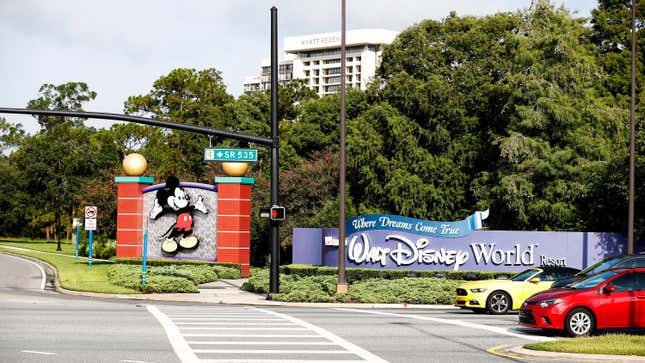 The legal battle between the Walt Disney Company and the state of Florida over Walt Disney World's special district continues to heat up.
The Mississippi River is Drying Out | Extreme Earth
In a publicly broadcast earnings call earlier today, Disney CEO Bob Iger was asked about his thoughts on the special district skirmish, a result of Florida Governor Ron DeSantis' attempts to punish Disney for standing against his anti-LGBTQIA+ legislation. The latest developments have included Walt Disney Company suing DeSantis' hand-picked board on the grounds that its plans for the Reedy Creek Oversight Board, where Disney World is located, were "enacted in retaliation for Disney's political speech in violation of the First Amendment." For context, Disney is the largest taxpayer in Florida and currently has over 75,000 employees in the state, all being paid above minimum wage.
"Regarding Florida I have got a few things I want to say about that," Iger declared on the record during the call. "First of all, I think the case that we filed last month made our position and the facts very clear and that is really that this is about one thing and one thing only—and that is retaliating against us for taking a position about pending legislation. And we believe that in us taking that position we are merely exercising our right to free speech." 
He continued. "Also, this is not about special privileges or a level playing field or Disney in any way using its leverage around the state of Florida. But since there's been a lot said about special districts and the arrangement that we have, I want to set the record straight on that too. There are about 2,000 special districts in Florida. Most are established to foster investor development, where we were one of them. He basically made it easier for us—and others, by the way—to do business in Florida, and we built a business that employs, as we said before, over 75,000 people, and attracts tens of millions of people to the state. So while it is easy to say that the Reedy Creek Special District that was established for us over 50 years ago benefited us, it is misleading to not also consider how much Disney benefited the state of Florida. And we are also not the only company operating a special district. I mentioned 2,000—the Daytona Speedway, it has one. So do the Villages, which is a permanent retirement community, and there are countless others."
Iger continued. "So if the goal is leveling the playing field in the uniform application of the law or government oversight of special districts, [that] needs to occur or be applied to all special districts. There's also a false narrative that we have been fighting to protect tax breaks as part of this. But in fact we are the largest taxpayer in Central Florida. We pay more taxes, specifically more real estate taxes, as a result of that special district. And we all know there was no concerted effort to do anything to dismantle what was once called Reedy Creek Special District until we spoke out [against DeSantis' anti-LGBTQIA+] legislation. So this is plainly a matter of retaliation while the rest of the Florida special districts continue operating basically as they were."
What's more, "I think it's also important for us to say our primary goal has always been to be able to continue to do exactly what we have been doing there, which is investing in Florida. We are proud of the tourism industry that we created and we want to continue delivering the best possible experience for guests going forward," Iger concluded. "We never wanted—and we certainly never expected—to be in the position of having to defend our business interests in federal court, particularly having such a terrific relationship with the state as we have had for more than 50 years. We employ thousands of people and, by the way, we pay them above the minimum wage, substantially above the minimum wage, dictated by the state of Florida. We also provide them with great benefits and free education. So, I'm going to finish what is obviously kind of a long answer by asking one question: does the state want us to invest more, employ more people, and pay more taxes—or not?"
Keep up with the battle between Disney and the state of Florida—or rather, the puppet political police put in place to pick on the state's biggest source of tourist income and other economic contributions--here on io9.
---
Want more io9 news? Check out when to expect the latest Marvel, Star Wars, and Star Trek releases, what's next for the DC Universe on film and TV, and everything you need to know about the future of Doctor Who.