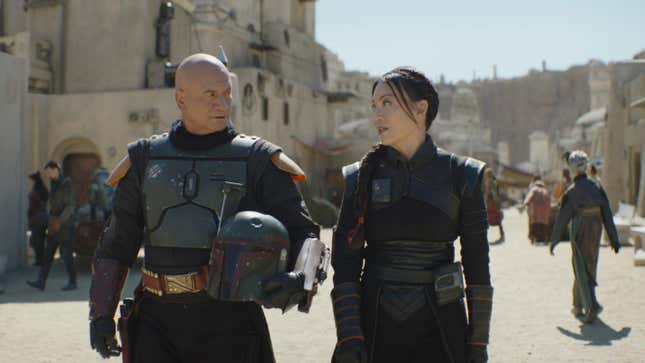 Anyone who has watched a Star Wars show on Disney+ knows the service is careful about keeping viewers unspoiled. New episodes don't have their titles displayed on the menu, leaving that surprise for audiences to discover. Then, a few days later, once most people have watched it, the title appears, as it will live on the streamer from now until forever.
That's not the case, however, with The Book of Boba Fett.
Though the show ended over a year ago, Disney+ still has the episode titles hidden, with just a very bare-bones description detailing what happens in the episode. Which, we guess, is just an oversight. But considering season three of The Mandalorian is now over and the Boba Fett titles still haven't been changed, we found it hilarious to go back and look at what Disney+ told us about the episodes on the night they were released, as opposed to what the episode really was.