Comic-Con is an ocean of advertisements and in-your-face marketing. Some ads are supremely clever — but others are cringe-inducing monster that make us want to bury our heads in the lawn outside Hall H. We've rounded up the worst of the worst advertisements, for your enjoyment.
The Booty Bus!
Nothing says Comic-Con like a horrific ad for a fairly degrading "throw the ring on the strippers ass" attraction. This insanity was only eclipsed when a group of evangelicals descended upon the Hall H line shouting their wares into a megaphone. Too much crazy for one sidewalk!
Top image taken from Ron Lim's twitter good eyes sir!
G/O Media may get a commission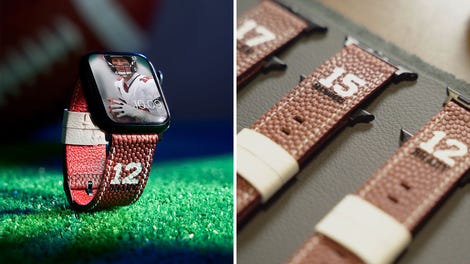 Official NFL PRODUCTS
Official NFL Apple Watch Bands
Racist Cookies?
Angry Asian Man was sent this tip. Apparently these were the cookies the Hub was passing out at Comic-Con. YIKES.
I'm sure this was something they were unaware of, at least sheesh we certainly hope so.
Cafe Defiance?
Gone is Cafe Diem, the supremely clever Syfy Eureka restaurant. See, Cafe Diem made sense because Eureka actually had lovely little lunch spot in their town. And seeing it brought to life at the Con was totally endearing. This... this is weird. What is De...Fi...An....Ce? Also, I know when I'm thinking about future dystopian Earth I could always go for a plate of alien pancakes. It just doesn't make any sense! Was their contract not up yet? We're mostly just bitter because we loved Cafe Diem, it was a sweet representation of the best of Syfy's programming slate.
Hover FAIL
It shouldn't need a stand!

Dodge Dart Live In It To Win It
Four strangers had to live in a Dodge Dart for four days without air conditioning, because Comic-Con! The best part was the fact that no one living in the car got any sleep due to the masses of hecklers. You can watch the whole live stream right here, because there is noting more riveting than watching four strangers sweat in a car with random costumes on, nothing.

Army Comic
We don't have a problem with the Army, we just wish they would write much better comics. Seriously, it's bad.
[via Wired]

Cthulu Panties
To help "protect your elder bits." *shudder*.

Soap?
Indecipherable soap ads.
Image via cdestefano.

Bates Motel
Now THIS is how you do an awesome Soap Advertisement.
Image via Michaela S.

Fear.net and Resident Evil hosted a Zombie Walk, and while we normally support any sort of zombie affiliated strolling, this time it was different. First off it was an Occupy Zombie Walk, with slogans like "1 percent of the people have 99 percent of the brains." Which... ehh. Second, it ended right in the biggest street in the middle of the Gaslamp, thus forming a massive clog in the flow of traffic. Pair that with the exiting foot traffic leaving the convention center, and then throw in a couple of train tracks and you have an accident just waiting to happen.
Airport Defiance
Not to harp on Defiance, after all we were pretty optimistic about the TV show video game crossover itself, but enough is enough. Animal New York spotted one last desperate act of advertising in the TSA bins at San Diego Airport security. The last thing you want when you're exhausted, brain dead and smelling of old hot dog meat is yet another ad attack, especially in the most annoying part of the airport.
Image via Gareth Branwyn.