Why do we drink more around the holidays? Is it the cold? The relatives? Just looking for an excuse? Whatever the reason, here are some drinking gadgets for your friends with a lush for life. (Also: it's the relatives).
BTW, if you hate the gallery format as much as the Grinch hated Christmas, click here.
Vinturi Wine Aerator: For wine to reach its full potential, it needs to breathe. For centuries, people have been doing this with decanters, letting the wine sit out of the bottle to release its aromas and flavors. That's great if you've got the time, but more often than not when you crack open that bottle you just don't... want... to wait. Or maybe that's just me. Pouring your wine through an aerator gives you the full effect of a decanter, just without the agonizing wait. They can be ordered directly from Vinturi for $40, but you can get them a little cheaper on Amazon. [Vinturi, Amazon]

G/O Media may get a commission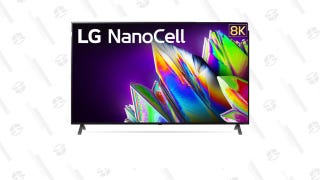 LG 75-Inch 8K TV
Dripless Wine Pourer: Not only is every drop of alcohol precious, so is the easily stainable wood coffee table your drink sits on. This dripless pourer makes sure your wine ends up where it belongs: in the glass. For just $3, you can even spring for a multitude of these for your next dinner party. [Crate&Barrel]

Knuckle Duster Corkscrew: A straightforward rebuttle to those who think wine is for sissies. This may not be the most practical corkscrew in existence, but it's undeniably the most manly. It will no doubt come in handy the next time someone favorably compares a Rioja to a Beaujolais. $13. [ThinkGeek]

A home brew kit: This site has already gone on record as being serious supporters of brewing your own suds. The short version, if you need one: it's cheap, it's easy, it's fun. There are a lot of options out there, but I'd recommend the Brooklyn Brew Shop for its ease of use and adventurous seasonal flavors. For $40 you can get a one gallon kit and a supply of any one of their nine grain varieties, ranging from Eggnog Milk Stout to Grapefruit Honey Ale to to a more straightforward Tripel. For serious home brewers, a five gallon kit is also available for $125. [Brooklyn Brew Shop]

A covert alcohol storage and transportation system: You may laugh now, but you never know when you might have to smuggle beer into a situation where it's not generally socially acceptable. For whiskey, there are flasks. For more pedestrian potables? The Beerbelly and the Winerack. For stealth you'll want to go Winerack, but for sheer volume and the odd experience of displaying reverse-bloat the more you drink, you can't go wrong with the Beerbelly's 80 oz. bladder. Perhaps not surprisingly, these are made by the same company. One stop shopping! $30 for the Winerack; $35 for the Beerbelly. [The Beer Belly]
Bad Decision Blocker: Perfect for those who have that someone (or someones) in their lives that they can't help reaching out to when they've had a few too many. Bad Decision Blocker is an app that lets you deny yourself access to certain numbers at previously designated hours. Which, let's be honest, after 3 am should be your whole phone book. $1. [App Store Link]

Space beer: It's a long shot, since only 250 boxes available and you have to win a lottery to be eligible to taste or buy one. But if you happen to be one of the lucky few, what could be better than beer brewed from barley that's spent five months in space? Well, not necessarily better-taste wise. But you can't beat it for uniqueness. [Sapporo Breweries]

Coors Light Cold-Activated Cans: Let's be honest. The only reason it needs to be so cold is to freeze your tongue so you can't actually taste this pisswater. Get them a nice cask ale instead.

Don't forget to recommend your own favorite drinking gadgets in comments-include pics and pricing if possible.
All Giz Wants is our annual round-up of favorite gift ideas, including amazing attainable objects and a few far-out fantasies. We'll be popping guides catered to different interests several times per day for the next week, so keep checking back.