The Environmental Protection Agency may still be headed up by person hellbent on destroying it despite Scott Pruitt's ouster, but there's some good news for the environment out in California. The most populous state in the nation hit its first target for cutting back on emissions four years ahead of schedule.

The success story, borne out by data released Wednesday by the California Air Resource Board and highlighted by the San Fransisco Chronicle, shows greenhouse gas emissions in the state dropped by 2.7 percent to 429.4 million metric tonnes in 2016. The state wasn't expected to drop below that mark until 2020, putting it well on track to meet its ambitious emission reduction goal of 40 percent set for 2030.

By hitting the milestone, California has dropped 13 percent below its peak emissions levels, 493.7 million metric tonnes in 2004, and has snuck under the emissions levels it was producing in 1990—all while continuing to grow its economy, which is now the fifth-largest in the world, surpassing the United Kingdom.

Much of the state's success in achieving its goal has come from its growing reliance on renewable energy. The Associated Press noted California saw a major uptick in solar electricity generation—up 33 percent in 2016 thanks to the increased adoption of rooftop arrays and large solar power plants. Hydroelectric power also jumped up 39 percent as major droughts plaguing the west coast started to subside. With more renewable energy than ever available, reliance on natural gas for electricity dropped by 15 percent in 2016.
That was not so much the case when it came to cars in California. While the state leads the way in adoption of electric vehicles and is expected to have 1.5 million of them on the roads by 2025, emission levels from transportation actually ticked up in the state due to the cheap price of gas. Plus, for whatever reason, folks readily buy up gas-guzzling cars when the economy is good despite swearing they'd pay more for fuel-efficient options.

G/O Media may get a commission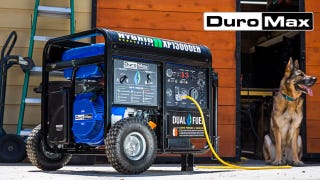 Black Friday Sale
DuroMax Generator Sale
Still, California's model appears to be a success, which is good news not just for the residents of the state but for the rest of the country. While the Trump administration seems set on undoing any and every regulation designed to protect the environment and is pretending climate change doesn't exist, California shows that local governments may have a path forward to cutting greenhouse emissions without the federal government leading the way—or, in this case, actively fighting against it.

A number of mayors and governors banded together last year when Trump pulled out of the Paris Agreement to promise to continue working toward the standards set by the accord—which 198 other countries are still a part of. Per an analysis by Carbon Brief, those local leaders head up cities and states that account for more than 40 percent of the US' total carbon emissions. They could potentially drag the country along to meeting the goals of the Paris Agreement with or without complete participation. Following California's lead would likely be a good start.