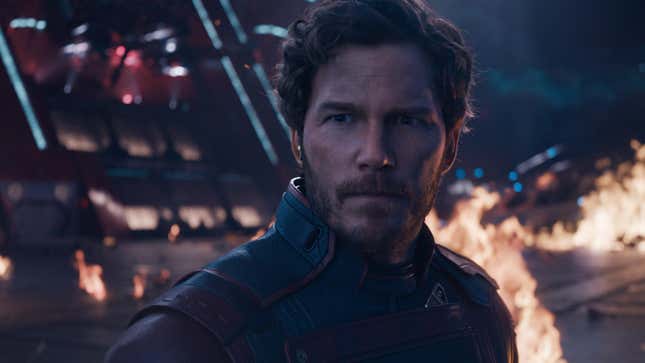 No matter what happens to all the individual characters in this week's Guardians of the Galaxy Vol. 3, it marks the end of an era for Marvel Studios. James Gunn, one of the filmmakers who helped bring the MCU to a whole new level with the first Guardians, is leaving—and if you believe everything you see and read, some of the actors who portray those characters will be leaving too.
Watch Chris Pratt and the Guardians of the Galaxy Cast Open Their Own Toys
Now, does that reflect what actually happens in the movie? Just because Dave Bautista says Drax is done, does the movie necessarily make that clear in some way? We'll have to wait and see. The same goes for Chris Pratt and Star-Lord. In a new interview, Pratt discusses the potential of continuing the character without Gunn at the helm—but does that sentiment ensure Star-Lord is even around by the end of the film? Decide for yourself.
"It would be strange to continue Peter's story without James," Pratt told GamesRadar. "He's done such a masterful job in the first three films. We really found the voice of Peter Quill together and without him, obviously, I would never have had this opportunity. He writes it, he directs it, he dreams up the music, it's his imagination on screen. So, to continue to tell the story, it would really be important to honor what he's done in the first three films and to honor what the fans have grown to love about the character and not simply do it because people might show up to pay for it, you know?"
"I don't want to be cynical in the approach and if that's the case, I just wouldn't do it at all," Pratt continued. "So maybe down the road if something makes sense I would do it but it would really have to check a lot of the right boxes."
Which is a very long way of saying, if Star-Lord comes out of Guardians of the Galaxy Vol. 3 unscathed, Pratt is open to returning. And yet, isn't discussing this at all feel like a spoiler? Doesn't it feel like he's putting people off the scent a bit? Like he's saying this because he won't really have to account for it?
The answers will be found this weekend when Guardians of the Galaxy Vol. 3 hits theaters. And then, maybe, Star-Lord will return without his captain, James Gunn.
---
Want more io9 news? Check out when to expect the latest Marvel, Star Wars, and Star Trek releases, what's next for the DC Universe on film and TV, and everything you need to know about the future of Doctor Who.