Action specs are great at keeping wind and debris out of your eyes through fast-paced sports like mountain biking. But their blade-like styling looks dumb once you slow down. Enter this new range of casually-styled, but high-performance sunglasses from California brands Salt Optics and Aether Apparel.
Available in a couple different styles and a bunch of different colors, the Salt x Aether glasses all feature plastic fairings that wrap the lenses and are reminiscent of the leather gaskets on glacier glasses. Like those, these fairings help block glare and wind from entering the sides, but unlike those glacier glasses, these shades don't obscure peripheral vision.
Here, holes — let's call them "speed holes" — block 80 percent of glare and keep the wind out, but allow you to maintain enough awareness of what's happening on the fringes of your view that you can still use it to inform decision making.
Jonah Smith, one of the founders of Aether (and, full disclosure: a friend), tells us he came up with the idea for the fairings because he's one of those odd characters that prefers wearing glasses under the clear visor of his motorcycle helmet. Unlike simply using a tinted visor, that allows him to keep his face exposed to the wind on hot days, or just when he prefers feeling a cool breeze.
G/O Media may get a commission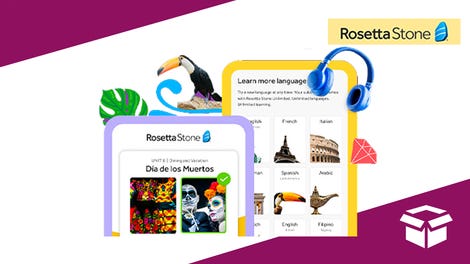 Extra 20% off
Rosetta Stone Lifetime Subscription - All Languages
These rectangular frames are the Explorer model. The Scout is a classic aviator shape.
The trouble with doing that has, traditionally, been that you could only keep the visor up until about 35 or 40mph, at which point air tumbling around the lenses would become a nuisance.Thanks to the fairings, the Salt x Aethers manage to keep the wind off at speeds above 55mph, with how effective they continue to be as you go faster dependent obviously on the unique aerodynamic combination of your motorcycle and helmet. The speed holes retain enough peripheral vision at the very edge of your helmet portal that you can still sense if a car is approaching from that angle through traffic.
Salt's contribution are extremely high-quality, double-layer Zeiss lenses that are both photo chromatic, adjusting their degree of tint in relation to lighting conditions, and polarized, cutting the glare of reflected light. Those are housed in a flexible beta-titanium frame and the whole deal is handmade in Japan.
High quality glass like this will be a revelation to anyone more used to Luxottica products. The brighter, clearer and distortion-free picture helps you see further ahead, in more detail. While the lenses are photo chromatic, they always retain a fairly significant amount of tint — they're always sunglasses — and adapt to changing lighting conditions fairly slowly, over a period of 60 seconds or so. That means they don't magically go clear the second you enter a dark tunnel; the effect is more applicable to transitioning from direct sun to shade and keeps the glasses working over a longer period of the day, from mid-afternoon well into the evening.
Together, the wind and glare protection of the fairings combined with the clear vision and adaptability of the lenses creates the perfect combo for any activity that involves wind in your face and sun in your eyes. I wear them to ride my bicycle around town, on the water and even while practicing archery out in the desert. In those environments, the reduced glare of the polarization is also useful. Spotting fish under the rippling surface of a stream is easier in these than it is in traditional glasses.
But, that polarization does make the glasses less than ideal for driving. In your car, they create a pattern of artifacts any time you need to look through sun-struck plastic and the display on LCD screens — think gas station pumps — is totally obscured.
Beta-titanium is an alloy adopted from the orthodontic world and is used here because it's both flexible and heat-formable. My left ear sits a little lower on my head than my right, so I was able to get these glasses to fit straight by heating them up with a hair dryer and twisting the frame a little bit to suit. Drop them, sit on them or stuff them into a backpack and they don't break either.
With that little bit of adaptation, the Salt x Aethers now fit me as securely as my wrap-around Smith cycling glasses. They actually do a better job at protecting my eyes from wind and debris too. But, unlike those and other dedicated sport glasses, these look just as good paired with a suit as they do a jersey and helmet.
I've worn them to assist my dog during his role as a ring bearer at a friend's wedding, on a few dozen hikes, while riding motorcycles and bicycles, while shooting (shotgun and archery) and while napping on long international flights. Throughout all that they work well and draw compliments.
The downside? Performance paired with style comes at a price. These puppies will set you back an eye-watering $600.

IndefinitelyWild is a new publication about adventure travel in the outdoors, the vehicles and gear that get us there and the people we meet along the way. Follow us on Facebook, Twitter and Instagram.