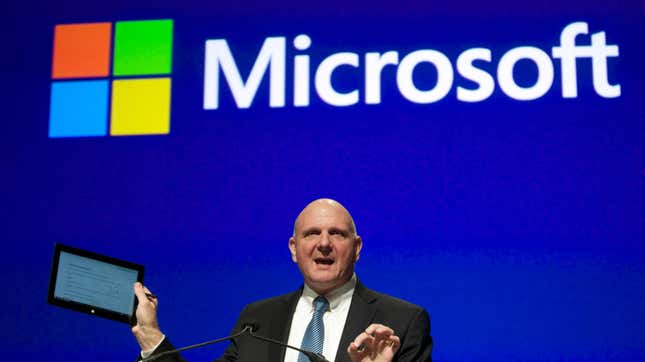 Steve Ballmer is really, really excited about toilets. The former CEO of Microsoft and now owner of the Los Angeles Clippers basketball team just couldn't contain himself while offering a construction update on the Intuit Dome, a new basketball arena that is currently under construction in L.A.

The Intuit Dome will serve as the Clippers' new arena that has been under construction since 2021. Now, the Dome has toilets—and a lot of them according to Ballmer. Ballmer got riled up while offering a construction update at a press conference yesterday, which saw the team in attendance. Ballmer is known for his...volume...and he revealed that the Dome now has over a thousand toilets. While that may not be the most exciting news in the world, the man is absolutely unhinged about it.
"Toilets! 1,160 toilets and urinals," Ballmer booms into a microphone at the press conference, a recording of which was uploaded to Twitter. "Three times the NBA average number of toilets. We do not want people waiting in line, we want them to get back to their damn seats at the end of the half, before the game."
Ballmer is reportedly the richest owner in the NBA, earning more than other high-profile names like Mark Cuban (owner of the Dallas Mavericks) and Michael Jordan (owner of the Charlotte Hornets). The Clippers are worth a whopping $3.9 billion according to Forbes, which is a great investment for Ballmer who purchased the team in 2014 for $2 billion. The richest man in basketball likely got a bump in wealth from his time at Microsoft, when he served as the CEO from 2000 until his retirement in 2014.
As Microsoft CEO, Ballmer made the company financial gains, but failed to capture the magic of smartphone boom. In a an interview with Bloomberg in 2016, Ballmer said that he pushed for the company to develop Surface, Microsoft's answer to the iPad. But, there was a "difference in opinion"—according to Ballmer in the interview—over how the technology giant should approach smartphone technology, one that strained Ballmer's relationship with Bill Gates.
While Ballmer might have flushed Microsoft's chance at smartphones, at least he has the toilet industry locked down.