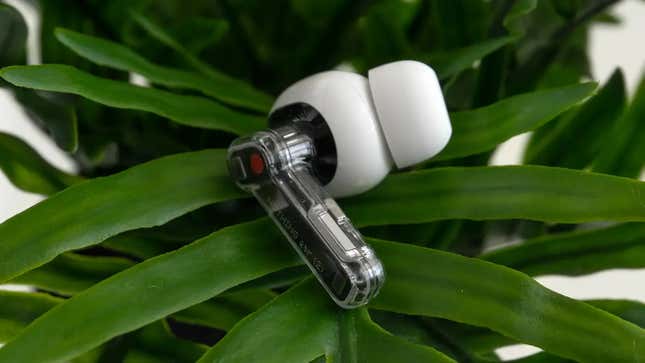 Nothing's not done with this summer's product releases, even after revealing the Nothing Phone (2) and bringing Nothing OS 2 to the Phone (1). Just this month, the company launched its CMF brand that CEO Carl Pei promised is focusing on accessibility and affordability. Now details for CMF's first slate of smartwatches and earbuds have wormed their way onto the internet early. They're set to be released in a month's time.

Hey Google, Where Did My Watch's Battery Life Go?
As first spotted by 9to5Google, leaked product banners posted on Twitter show that the CMF brand's first foray into cheap tech include the "Watch Pro" and the "Buds Pro." Both are very orange, but also bare bones to fit into Nothing's 2-bit, cut down aesthetic. In addition, CMF is releasing a 65W charging adapter that includes a USB and two USB-C slots.
According to the internal marketing banners, the Watch Pro includes a 1.96-inch AMOLED always-on display with 50Hz refresh rate. That's a slightly bigger screen than the smallest Apple Watch Series 8, though with a lower max refresh rate. Nothing is apparently promising users up to 13 days of battery life on the watch's 330mAh battery, though only with AOD turned off. The screen only goes up to 600 nits of peak brightness, which is fairly low compared to the Pixel Watch at 1,000 nits or the Samsung Galaxy Watch 6 at 2,000 nits. Still, it does have "100 watch faces" to choose from, per the banners. The watch won't run Google's Wear OS, according to the leakers at Tech & Leaks Zone.
The watch's hardware includes a heart rate monitor and blood oxygen sensor for sleep and stress tracking, plus it supports Bluetooth calling with AI noise reduction. The banners state the device is priced at Rs 4,500 for India, which would translate to $55. Of course, this price point might be consistent for different markets, but it does show that Nothing is aiming its first smartwatch at the ultra-cheap device market, where brands like NDur and LetsFit currently reside. Gizmodo reached out to Nothing for comment, but we did not immediately hear back.
Next are the Buds Pro, not to be confused with the $150 Nothing Ear (2). These earbuds will reportedly tout "ultra bass technology" with up to 45 dB of active noise cancellation. Considering that ANC wasn't all it was cracked up to be on Nothing's flagship earbuds, there's not much there to take stock of. Still, the Buds Pro themselves should last for about 11 hours with its 54mAh battery, which is about what you would expect with buds going for Rs 3,499, or around $42.
Both devices are being scheduled for launch Sept. 26, a little less than two months since Nothing first introduced its CMF brand. Pei has claimed two separate teams are working on CMF and Nothing, but the overall minimalist design seems to have remained from the company's mid-to-premium flagship products. Just earlier this year, Pei said he was "learning about the category" of smartwatches as he felt the Samsung Galaxy Watch5 Pro was "kind of useless." The OnePlus veteran's first entry into wearables is a budget smartwatch, which seems to state that Nothing is starting small with the market, dipping its toes in to see how many people truly want a Nothing-brand wearable.