Debra Haaland was sitting with her mother at Hotel ABQ in Albuquerque, New Mexico, as the midterm election results started pouring in. Surrounded by her family and friends, she was prepared for anything. By around 8 p.m. Mountain Time, the race was called: Haaland won. She'll be joining the House of Representatives with Kansas Democrat Sharice Davids as the first two Native American women ever elected to Congress.
Congresswoman-elect Haaland won 59 percent of the vote in New Mexico's First Congressional District, which includes Albuquerque and surrounding areas. This wasn't a total surprise; the polls said she'd win. Still, she didn't feel any less grateful about her historic victory. Growing up, Haaland never imagined a world where she'd be represented by someone like her.
"Representation does matter in our country," Haaland told Earther. "We need all of us at the table to find the solutions to the issues of our time. You do that by opening up the door wider than it ever has been and making sure that everyone is represented."
Not only did Haaland's victory make history and help flip the House from red to blue, but it's a step forward for New Mexico's environmental agenda. Haaland campaigned on a platform dedicated to solving climate change: moving toward 100 percent renewable energy, ending the expansion of fossil fuels, putting indigenous rights front and center, and ensuring families across the state have clean air and water. The question now is, how to do all of that?
G/O Media may get a commission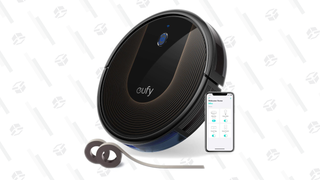 48% Off
Eufy BoostIQ RoboVac
She's still figuring that out, Haaland said with a laugh. But she imagines a lot of these policies will require the help of her colleagues.
"I'll be ready to make sure that we map [these environmental goals] out and work toward [them]," Haaland said.
Luckily for Haaland, she'll have some support on the state's frontlines. After nearly eight years of Republican leadership, the governor will soon be Democrat Michelle Lujan Grisham. And Democrat Martin Heinrich, a champion of public lands, won re-election of his Senate seat. Then, there's long-standing Democratic Senator Tom Udall. Both are invested in environmental issues. This blue stronghold may be key in pushing through statewide environmental policies, especially when it comes to oil and gas.
New Mexico is a major battleground for oil and gas development, especially the Greater Chaco Region that surrounds the Chaco Culture Historical Park in the state's northwest. For many Native American people in the region, unfettered expansion of oil and gas has come at the cost of their health and culture.
The Greater Chaco Region is home to sacred sites and ancient burial grounds, and the extractive process of fracking spews dangerous pollutants like particulate matter and benzene into the air. Some tribal people hope Haaland's win will help keep these lands protected. Others are skeptical, but now Haaland has a chance to prove the skeptics wrong.
"We all care about [Chaco]," she said in response to skepticism over her ability to safeguard the Chaco region. "I'll sign onto a bill in a heartbeat, or I'll write one that protects Chaco Canyon."
As for the rest of the country, environmentalists, progressives, and especially indigenous peoples are excited. Who can blame them? Haaland and Davids—who is also about saving the planet from climate change—made history.