It looks like nobody's going to be shooting a Yellowstone grizzly bear for sport this year after all.

On Monday, U.S. District Court Judge Dana Christensen restored endangered species protections to grizzly bears in the Greater Yellowstone Ecosystem, asserting that the U.S. Fish and Wildlife Service (FWS) acted "arbitrarily and capriciously" when it chose to delist the 700 bears in 2017. The ruling ends a high-stakes showdown over what would have been Idaho and Wyomings' first grizzly bear hunting seasons in over 40 years.
Wyoming's planned hunt of up to 22 bears, in particular, sparked a national uproar, as those who opposed it on moral or scientific grounds squared off against ranchers and farmers living near Yellowstone.
In his order, Christensen made clear that the case "is not about the ethics of hunting, and it is not about solving human- or livestock-grizzly conflicts as a practical philosophical manner."
Instead, the case was about whether the decision to de-list this segment of the Lower 48 grizzly population was scientifically sound. (Grizzly bears as a whole still enjoy endangered species protections across the Lower 48.) Christensen felt that it wasn't, writing that FWS "failed to consider how reduced protections in the Greater Yellowstone Ecosystem would impact the other grizzly populations."
G/O Media may get a commission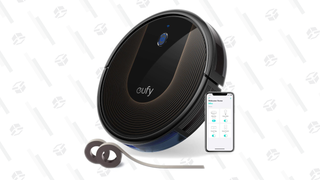 48% Off
Eufy BoostIQ RoboVac
The ruling drew heavily on a case the federal agency lost last year, when its decision to de-list Western Great Lakes region gray wolves was vacated in court for failing to consider species-wide impacts.
Both cases considered a predator that was virtually extirpated across the lower 48 before receiving endangered species protections. Wolves and grizzlies both still occupy a fraction of their former range and need large habitats and connected populations to muster a more complete recovery.
The Greater Yellowstone grizzlies are the second largest of five isolated groups scattered across Wyoming, Idaho, Montana, and Washington. These 1,800 bears represent a small percentage of a population that once roamed coast-to-coast. And while the Yellowstone grizzlies have rebounded somewhat in recent decades, they are still isolated from the approximately 1,000 bears living in Montana's Northern Continental Divide Ecosystem and the other, far smaller subpopulations.
In response to a query about Christensen's potential ruling several weeks back, Noah Greenwald, Endangered Species Director at the Center for Biological Diversity, told Earther he'd like to see FWS "go back to the drawing board on a recovery plan for grizzly bear that includes full recovery before delisting."
Greenwald wasn't hopeful about such a plan emerging under the Trump administration. But at least with this latest ruling, one potential threat to grizzly recovery has been thwarted for now.