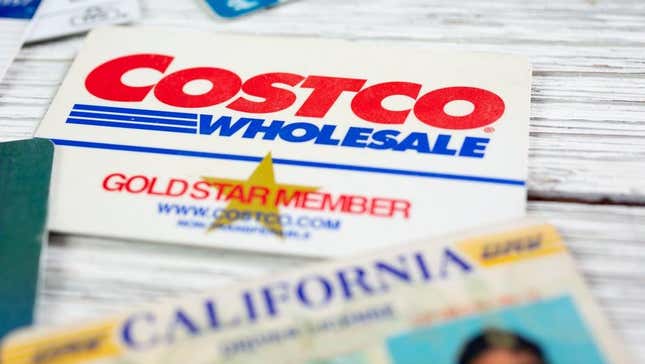 Costco members should be wary of sharing their cards with friends or family as the company takes action against non-members. The company announced on Tuesday that it is cracking down on card-sharing, and members will soon be required to show proof of identification at the checkout counters before they can make a purchase.
This Summer's Hottest Umbrella
While the company has not confirmed when the new policy is expected to start, customers should reconsider using a borrowed card or risk being turned away at the counter. Costco has always requested the customer's membership card at the register, but its new policy will require seeing photo IDs if their membership card doesn't have a photo.
"Our membership policy states that our membership cards are not transferable and since expanding our self-service checkout, we've noticed that non-member shoppers have been using membership cards that do not belong to them," a company spokesperson said in an emailed statement to Gizmodo. "Costco is able to keep our prices as low as possible because our membership fees help offset our operational expenses, making our membership fee and structure important to us." The spokesperson continued, "We don't feel it's right that nonmembers receive the same benefits and pricing as our members."
Costco has not raised its membership costs since 2017, remaining competitive with its rival warehouse store, BJ's, and rising above other competitors like Amazon and Walmart's Sam's Club which have raised their membership fees. Chief Financial Officer Richard Galanti told investors in March, "It's a question of when, not if" the prices will go up, adding, "We'll let you know," Fortune reported. And while Costco has hinted at price increases, its members continue to pay $60 for a standard membership or $120 for an upgraded executive membership.
The company reported it has nearly 125 million members as of June 22 and serves 69.1 million households across the U.S., according to Costco's website. It has also seen an increase in sales, bringing in $222.7 billion in 2022, an increase of 9% from the previous year.
In its annual 2022 filings, Costco said: "The extent to which we achieve growth in our membership base, increase the penetration of Executive membership, and sustain high renewal rates materially influences our profitability."
Despite its increased revenue, Costco's move to combat card-sharing mirrors Netflix's attempts to stop password-sharing among users who don't live in the same household. The streaming company announced the change to consumers last month, sending out an email stating: "Your Netflix account is for you and the people you live with — your household," with directions on how to share the account. The company said password sharing ultimately hurts its bottom line and instated the change that Netflix users are now required to pay an additional $7.99 to add an extra member to their account.