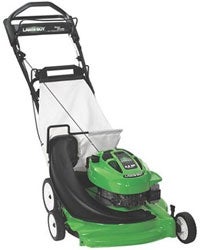 Once the slavering undead have broken in, it can be hard to clear them on out. But while you'll likely never have the luxury of mowing your verdant green lawn on a Sunday morning ever again, that neglected gas mower is the perfect tool for a little crowd control. With a patented Easy-Stride™ Self-Propel System that will reduce operator fatigue even as its 6.5 horsepower, 4-Cycle Tecumseh engine chops through rotting flesh and human bone, the Lawnboy 10367 is the ultimate zombie gelatinator. Featuring both a patented blade design that reduces mulching and also a side-discharge bag, you can spare yourself a messy clean-up by collecting the quivering slurry of the zombie horde as you mow.
Although Amazon is obviously no longer delivering, the Toro Company is located in Minnesota, which is still listed as a code yellow zone of infection according to the Homeland Security website. Better take the drive and grab one of these bad boys now, while you still can. That weed whacker just isn't going to do the same job when it counts.
Why not a bigger mower, you ask? Because when the shit really hits the fan, you'll have to reach your dainty digits inside either edge of the spinning blades and loft the Lawn Boy like a righteous, ichor-gobbling shield. Flexibility counts.