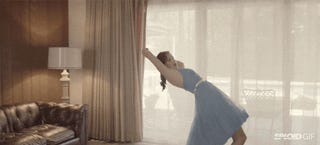 Here's the music video for She & Him's song Stay Awhile. It's a lovely stroll that follows Zooey Deschanel dancing around with an invisible person inside a bedroom, a living room and the clouds. Dancing alone is always the best since no one is watching but dancing with an invisible person looks even better.
She & Him is an American indie duo consisting of Zooey Deschanel and M. Ward. You can buy their album here.
---
This is part of a series in which we are featuring really cool music videoclips. If you are a musician or a director with high quality work, please drop me a line here.
---