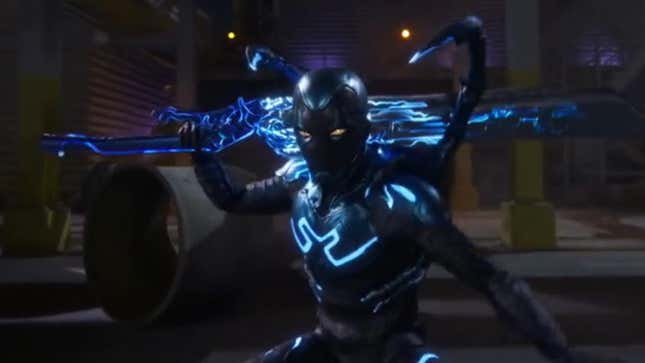 The next new hero of the DC Universe is here and he brought his whole family along for the ride.

Spoilers of the Week: July 1st
Warner Bros. just released the first trailer for Blue Beetle, starring Xolo Maridueña, George Lopez, and Susan Sarandon, and it looks wildly fun. Directed by Angel Manuel Soto, it's the first time the character is appearing in live-action—and though the film was originally going straight to HBO Max, the studio decided the story of Jaime Reyes deserved to be told on the big screen.
Below, you can see why. Check out the first trailer and then read more from both Maridueña and Soto, who spoke to io9 and other journalists at an event last week.
As you can see in the trailer, Blue Beetle is very focused on family and that was a key dynamic for the filmmakers. "One of the things that we really wanted to do with the cast was to be able to be as authentic as we can," Soto, who was born and raised in Puerto Rico, said. "Not the Hallmark, cookie-cutter Latinos. Something that feels like, 'Yeah, that's my uncle. I can totally relate...' That for me, as a director, is probably the most satisfying thing. Being able to to get an authentic chemistry from a collective that feels like something I grew up with."
"We see some of these other superheroes who are able to hide from their family the fact that they're a superhero," Maridueña added. "But, I mean, as you guys just saw in the trailer, his family is right there on that first transformation ... So to come through this journey together is something that I think we haven't seen before in superhero movies. And that really is the beating heart of this movie."
Though Jamie Reyes and his family are the beating heart of Blue Beetle, the film isn't beholden to just his version of Blue Beetle. Reyes, of course, is the most recent iteration of the character but in older comics, Blue Beetle has been Dan Garrett and Ted Kord too. Soto described his approach to the character as less a direct adaptation of Reyes' story, and more a "greatest hits" of cool Blue Beetle stuff from all takes on the character.
"There is a lot of great stuff in all of the different runs, and we were like, 'Man, how do you choose one?'" Soto said. "And then we were like, 'Do we have to choose one? Let's do whatever the fuck we want, just have fun and create something awesome. Create something really interesting that takes the greatest hits, even from the Injustice 2 game. We really deep dive on it because it's fucking dope."

By bringing all that together, Soto and Maridueña hope Blue Beetle won't only be "fucking dope," but something that feels unique and special in a sea of other superhero films. "We wanted to do something that's different," Maridueña said. "We've seen a lot of these superhero movies over the course of the past couple of decades. And seeing [which] slot we can fit in that feels different was one of the most magical parts ... It's not about competition to us. We're not looking to be called 'The next blah, blah, blah.' We just want to enter this space and have it feel new. And I think we completed that. I think we did it."  
We'll find out if they did it this summer, when Blue Beetle hits theaters on August 18. And here's a close-up of the suit from the event.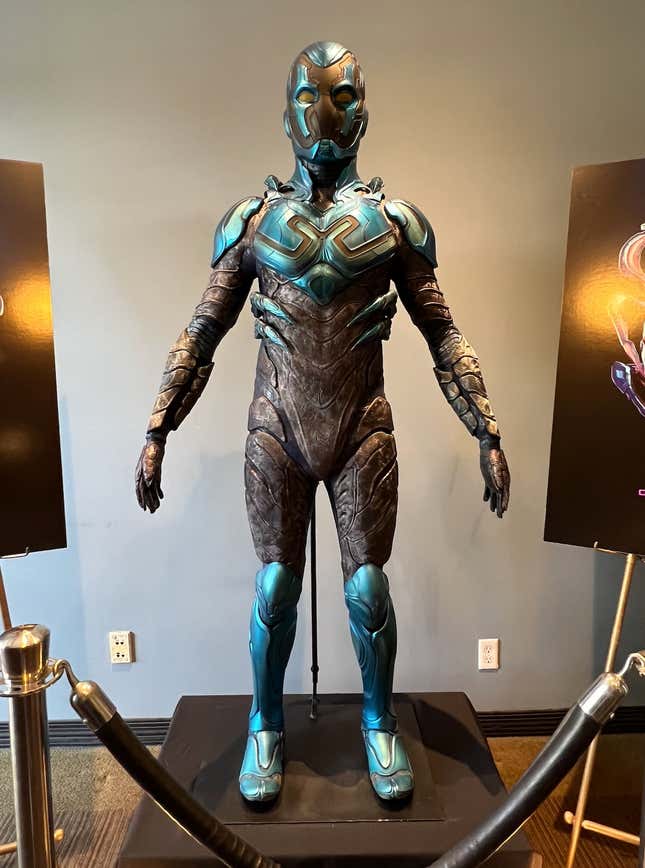 ---
Want more io9 news? Check out when to expect the latest Marvel, Star Wars, and Star Trek releases, what's next for the DC Universe on film and TV, and everything you need to know about the future of Doctor Who.