I got this picture from our Tips mailbox just after reading Wired's article on Fanboys, Ernie Cline's odyssey of a group of diehard Star Wars fans who break into Skywalker Ranch to steal a copy of Episode I before opening day. Reader Rye Clifton explained what it is, much to Addy's disbelief:
I just got back from a wedding where the groom had a Death Star groom's Cake.
Yes. A Death Star wedding cake.
Now, I know there are fanboys everywhere, but come on people. Heck, yes, I admit it. I'm guilty as charged, your honor. But although I was willing to pilot the X-Wing rocket (on retrospective, I'm glad that didn't happen), and I know the first trilogy backwards, forwards and inside-out, I've never dressed up or played lightsabers, re-enacted scenes or been to conventions. At most, I played Larry Holland's X-Wing and TIE Fighter simulators when I was in college. And, of course, built Star Wars LEGO stuff. And while I may have suggested to Addy that we should go and live in an Ewok village, I would have never, ever have subjected her to a Death Star wedding cake. Seriously.
Mainly because I didn't want to end up like Greedo, that is, or frozen in carbonite. [Thanks Rye]
G/O Media may get a commission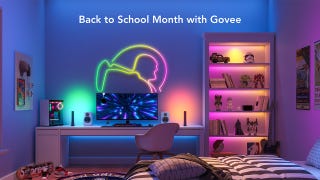 Back to School
Back to School Month with Govee Sale