Now that Rose McGowan is starring in the sword-and-sorcery-and-cleavage movie Red Sonja, produced by beau Robert Rodriguez, does this mean that the pair's Barbarella movie is really on hold? Last we heard, the movie already had some sets built, but director Rodriguez hadn't managed to scare up the $82 million he needs to create the space fantasy starring McGowan in the role Jane Fonda made famous. But an article announcing their Red Sonja movie doesn't mention Barbarella at all. What's going on?
According to the USA Today article about the Red Sonja movie, McGowan came to Rodriguez with a script about the scrappy warrior who vows never to sleep with a man until he's bested her in combat. He became excited by the script, but she was originally startled to be offered it. "When they first came to me with it, I thought it was funny," she said. "I do have a body made for sitting on a veranda with mint juleps and a parasol. I don't know why I always have to save the planet."
Rodriguez says McGowan is perfect for Sonja, because she's scrappy. "Rose is a pistol," he explained. "She's whip-smart, has attitude to burn, is sexy, extremely strong, yet has a vulnerable side that would surprise her closest friends. That description also fits Red Sonja."
So what's up with Barbarella? After all, it already has those half-built spaceship sets, but filming on Red Sonja (directed by Rodriguez associate Douglas Aarniokoski) starts in October. It turns out that McGowan and Rodriguez were already shopping around another script for her to star in as of last month - a women in prison TV drama called Women In Chains, according to our sister site Defamer. (I wonder if the script has the Pinocchio sex joke that every women-in-prison movie includes.) And Rodriguez is busy directing a family comedy called Shorts. So it sounds as though they'd already kind of given up on Barbarella, deep in their hearts.
G/O Media may get a commission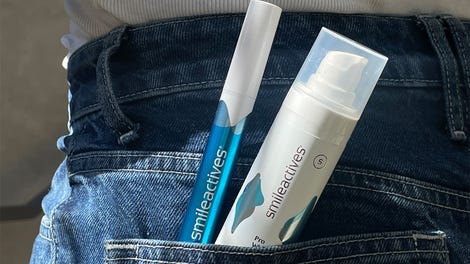 58% off
Whitening Powerhouse Pen & Gel Duo