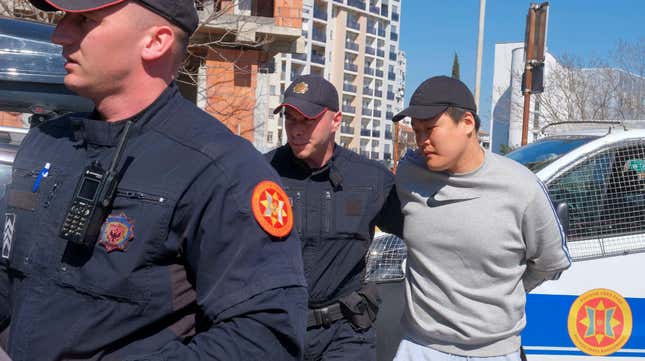 Do Kwon, notorious crypto entrepreneur and recent international fugitive, spent months evading arrest—despite claims that he was "not on the run." Yet now that he's been detained, his attorneys are hoping for the flitting fugitive's release on bail.
Spoilers of the Week | June 3rd
Kwon, the founder and CEO of the now-collapsed crypto platform Terraform Labs, was finally apprehended in Montenegro in March. According to the European country's officials, he was caught attempting to board a flight to Dubai with fellow fugitive, former Terra CFO Han Chang-joon. The two suspected blockchain baddies were allegedly in possession of forged Costa Rican and Belgian passports at the time. It was a very "not on the run" look.
Police subsequently charged Kwon and Chang-joon for attempting to travel with falsified documents. Those charges came on top of a bevy of existing indictments pending against Kwon and his peers in South Korea, his home country, and in the U.S.. Currently, Kwon and Chang-joon are in Montenegrin custody awaiting trial in the city of Podgorica. On Thursday, both pleaded not-guilty in court.
On top of denying the allegations against them, the two mens' attorney also requested their release. Defense lawyer Branko Andjelic suggested that Kwon and Chang-joon be let out on supervised bail at €400,000 each, or about $436,800, according a Podgorica court press release.
Kwon's defense council offered a unique means of keeping the ever-AWOL Kwon from fleeing the country. According to Bloomberg, Andjelic's offered that the two defendants would be confined under house arrest in his girlfriend's apartment and have to regularly report to the authorities.

"Instead of detention, the defendant's lawyer proposed that bail and supervision measures be imposed, prohibiting them from leaving the apartment and occasionally reporting to a certain state authority," the news statement reads.
While state prosecutors objected to offering bail, the Montenegrin court Judge Ivana Becic still has to offer her ruling on the defense's proposal. The next hearing date is set for June 16.
Kwon is the mind behind the Terra/Luna crypto ecosystem, all organized around the algorithmically stabilized stablecoin. Once that coin became depegged from the U.S. dollar, it started a cascading effect that wiped nearly $40 billion from the market, leaving many investors out in the cold. Some say they lost their entire life savings in the crash.
Kwon reportedly told the court he would "not hide" and agree to the security measures. He also promised he would offer the court his bank account numbers as long as press weren't around. The failed crypto founder added that most of his assets were "volatile and liquid," most likely referring to crypto. The U.S. Securities and Exchange Commission has said Kwon has close to $100 million in bitcoin holed up in a Swiss bank.
Last year, South Korean officials froze Kwon's assets still in the country, including his house and crypto assets, and revoked his passport. Kwon reportedly told the court Thursday that he and his wife jointly own some property in Seoul worth around €3 million, or $3.2 million.
With both the U.S. and South Korea both hungry for Kwon, Montenegro seems to hold most of the cards. The country's justice officials have suggested they could hand the Terra founder over to foreign hands after their trial concludes. While Korean prosecutors have charged him with several counts of fraud and tax evasion, federal prosecutors in New York indicted Kwon on eight counts of securities fraud, wire fraud, commodities fraud, and conspiracy after he was arrested.