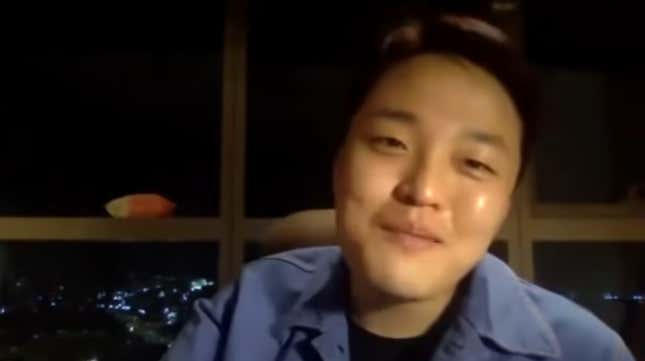 Terra co-founder Do Kwon, the man who arguably started the crypto collapse last year who was definitely not on the lam, was finally arrested Thursday. Now there are multiple countries, including Montenegro, South Korea, and the U.S. who are calling dibs on the failed crypto founder, making him a far more desirable commodity than any kind of crypto he's recently tried pushing.
He Tossed His Bitcoin, Now He Wants It Back
The U.S. Attorney's Office for the Southern District of New York is seeking Kwon's extradition to the United States, according to Nicholas Biase, the public affairs chief for the southern district.
After Kwon's arrest by Montenegrin authorities at the Podgorica airport Thursday, federal prosecutors in New York indicted him on new charges of commodities fraud, securities fraud, and wire fraud. This was all regarding his time pushing the Terra/Luna crypto ecosystem which eventually collapsed in May last year.
The charges specifically cite that Kwon lied to customers and investors in interviews and social media posts about how many people were using the Terra blockchain ecosystem. A recent complaint from the Securities and Exchange Commission claimed Kwon had lied about how the crypto ecosystem was being used on a popular South Korean payment app, even though Terraform Labs simply replicated the payments system on its own blockchain. The SEC has also alleged Kwon has been living large after transferring 10,000 bitcoin to an unnamed Swiss bank.
International police service Interpol had previously issued a red notice for Kwon while police have been trying to track his movements in the months he's been on the run. Interpol confirmed his arrest to CNN Thursday.
Now that he's in police hands, Montenegro charged Kwon and a second, currently unnamed suspect with forging official documents, namely Costa Rican and Belgian passports. He was allegedly trying to board a flight to Dubai, authorities confirmed in a statement to Reuters. Kwon will face a court in Montenegro before having to face extradition. Though we've now confirmed the U.S. plans to seek extradition, South Korean authorities have long been trying to get their hands on the failed crypto founder. The country has already revoked his passport after he failed to show his face when requested. 
Since Kwon's Terra/Luna ecosystem went under, the crypto industry has not been able to recover to previous heights of the late 2021s and early 2022s. Since then, the collapse of crypto exchange FTX has put an even greater damper on crypto evangelists. With Kwon's arrest, we might have two big crypto-centric court battles to look forward to as FTX's Sam Bankman-Fried is gearing up for his first day in court later this year.