Bryan Singer mentions some more original mutants that might return for X-Men: Days of Future Past, and two Captain America actors discuss possible returns. The CW's three big genre shows all get renewed. Plus an update on the Twilight Zone reboot!
Spoilers from here on out!
Top image from Man of Steel.
Star Trek Into Darkness
In what has to be the most unequivocal denial yet, Alice Eve — who is playing Dr. Carol Marcus in the sequel — stated during a red carpet interview that Benedict Cumberbatch "is not playing Khan." It seems like a fairly matter-of-fact denial, but in case you want to watch the original interview and analyze for yourself whether or not Eve is telling the truth, the video is below. The key denial comes at the 0:58 mark. [Coming Soon]

Here are some more highlights from Entertainment Weekly's new cover story:
— Abrams says he was keen to have more scenes where the audience "gets out and about" in a city setting on the future Earth
— Uhura has a cooler part this time around: the Spock/Uhura romance is tested in new ways, and they struggle with the fact that they're not the same species.
— Zoe Saldana says: "I told them to make sure Uhura kicks more ass. And she does!"
— Zachary Quinto says of Spock: "There are things that happen to him — and things that he's a part of — that are incredibly personal... That was really exciting for me both physically and emotionally."
---
Captain America: The Winter Soldier
It's confirmed that Toby Jones will be back as the villainous Armin Zola, and while Jones hasn't seen the script yet, he says it's likely the sequel will follow a similar path to the comics in terms of his character:
I'm told I am going to be involved. But of course, I don't quite know how much I'm gonna be involved. I think the theory is that Arnim Zola is gonna come back and, I'm told by people who know much more about the myth of this stuff, that he invents the secret of eternal existence. So, it's looking good for future films as well. So that character in particular is a good one to get involved with.
G/O Media may get a commission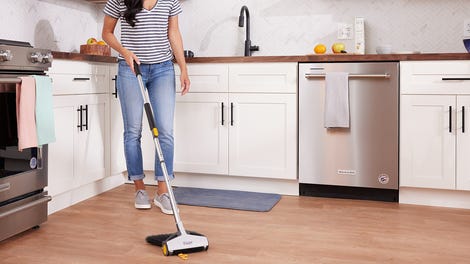 BOGO 50% Off
Flippr - BOGO 50% Off
Also, Hayley Atwell seems to be softening on her previous stance that Peggy Carter definitely wouldn't appear in the film. Instead, it appears Atwell was just trying to make it clear that she wasn't taking over the part of Sharon Carter and that Peggy isn't jumping unchanged to the present day:
You might see [Peggy] in some other context ... I'm not playing Sharon Carter. But [Peggy's exclusion] was inevitable because, obviously, Steve Rogers wakes up in the first one and it's modern day. Peggy would be very very old or dead. So, it wasn't really a surprise to me."
So then, an appearance in a World War II flashback still seems like a possibility, although it sounds like any past sequences won't be an integral part of this particular film. [Comic Book Movie]
Acclaimed, allegedly retiring director Steven Soderbergh reveals that he contacted Marvel Studios and vouched for Chris and Anthony Russo as the right directors for The Winter Soldier. Here's why he felt comfortable giving them his endorsement:
I just wasn't a comic book guy. When the Russos were going after the Captain America sequel, they called me and said, "Will you call Marvel and talk to them about us?" because I have a relationship with them. I said, "Tell me why you want to do this." And they go, "Because we have a $60,000 comic book collection, because we're obsessed with this shit." And I went, "Okay, I'm just checking." Because I'm not, that's why I can't do one, but I didn't know that and I just wanted to make sure that they were going after it for the right reasons as it turned out they were and they ended up getting the job and they'll do a great job because they love it, and I'm just not the guy.
[Collider]
---
X-Men: Days of Future Past
Director Bryan Singer says it's too early to get into which of the myriad X-Men set to appear in the film will be the protagonists, and which will be supporting players and cameos:
"I don't want to say [who the protagonists are] yet, or talk about that yet, but I will say that every character has a very important function in the story. The story is designed and catered to the combined cast. It's not just throwing in people to occupy the screen, occupy the billboards. The story 'Days of Future Past,' and our version of 'Days of Future Past' is geared very much toward the mass cast and all their relationships and all their foibles and their achievements."
He also isn't yet sure whether Halle Berry will reprise the role of Storm:
"I can't say. I don't know yet. And it's not necessarily a deal making aspect at all. I want to make sure it'll make sense. But I love working with her."
[MTV]
Elsewhere, Singer didn't exactly rule out a return appearance by Alan Cumming as Nightcrawler:
I don't know. We'll see. You know ... we'll see.

That sounded coy.
[Laughs] Yeah, I know. I don't want to ... sometimes you don't want to say "yes" or "no" to something that may not be a "yes" or a "no," or anything. I haven't decided yet, a few things. I'm still, you know — there are certain aspects of the script that I'm still toying with.
---
Man of Steel
Here's the clip of Amy Adams's recent Tonight Show appearance, in which she discusses her excitement about playing Lois Lane. [Comic Book]

---
Godzilla
Martha Marcy May Marlene star Elizabeth Olsen is the first confirmed star — though Breaking Bad's Bryan Cranston and Kick-Ass star Aaron Taylor-Johnson are also heavily rumored — of Monsters director Gareth Edwards's new Godzilla movie. Here's what she has to say about the role:
"It's definitely not lighthearted. It's kind of going back to its roots of the original Japanese film."
Below is the actual interview with Olsen in which she gave the quote. [Shock Till You Drop]

---
The Hobbit: The Desolation of Smaug
Star Martin Freeman confirms that he still hasn't finished filming scenes for Peter Jackson's Hobbit trilogy:
"It's a film we've not yet finished. People sort of say, 'How was The Hobbit?' and I'm like, 'I'm still doing it!' I've got to go back in late May for another couple of months. It's going to be part of all our lives for a long time."
---
Jack the Giant Slayer
Here's a sneak peek clip and the latest trailer. [Coming Soon]

Director Bryan Singer explains the evolution of his upcoming fairy tale reimagining:
I try to do very different kinds of films. At the time when I decided to develop this, there were no fairy-tale movies out. There was no "Alice in Wonderland" or "Snow White" or anything, so I felt it was a chance to expand on an old myth and tell it for real, for lack of a better term. What would it be like if there was actually a beanstalk that went into the heavens? What would it be like if giants existed? Also, I was a big fan of the Ray Harryhausen pictures when I was a kid, so this was a chance to make a modern-day film like that, but with the technology now in the place where it's at - with motion capture, performance capture, I could finally enter that space and work in it, so that was something I wanted to do as well.

I know you brought in Chris [McQuarrie] to re-work the script a bit. How much did the story change?
It changed entirely, it became a completely different film. I mean, I don't want to disregard the other writers, because they did create a world and a concept, but what I found was, if a movie's gonna be called "Jack the Giant Slayer," we really can't have too much sympathy for the giants. There was a dangerous ambiguity in the original script between sympathy for the giants, what they were, and their previous relationship with humanity. I needed to redefine that, so I brought Chris in for a rewrite, a very significant rewrite during the pre-production.
[MTV]
---
Europa Report
Here's a pair of promo photos from the upcoming space adventure movie starring District 9's Sharlto Copley. [Bleeding Cool]
---
Doctor Who
The Ice Warriors, the classic series's fifth most iconic monsters — after the Daleks, Cybermen, Sontarans, and Silurians, assuming you aren't feeling saucy and want to throw the Zygons in ahead of them as well — will officially make their long-rumored return in the second half of series seven, in an episode set on a submarine and written by Mark Gatiss.
Executive producer Caroline Skinner explains:
We wanted to bring them back because they're wonderful! In the mix of stories that we were planning for this year it felt as if doing something very bold with a monster that hadn't been seen for a while would be really cool. [Writer] Mark [Gatiss] is an enormous fan of the Ice Warrior stories and came up with the idea. The sense of a monster of that scale and that size trapped in a really small, contained environment such as a submarine was a really brilliant story to be able to tell... We've had a huge amount of fun going back to the traditional designs and recreating them, bringing the Ice Warriors back to life again. They were such a beautiful original design, and are genuinely really scary in terms of what they look like as they're coming towards you in that armor.
It's been 39 years since the Ice Warriors last appeared in "The Monster of Peladon" — not counting the 40-year gap between "The Macra Terror" and the Macra's cameo comeback in "Gridlock", that's by far the longest wait for any monster to make a return appearance. It sounds like the Ice Warriors' look will fairly close resemble the original design, which I really hope means the show retains their slow, hissing speech patterns, if only to contrast with Matt Smith's mile-a-minute delivery. [Doctor Who News]
---
The Twilight Zone
Bryan Singer discusses the latest incarnation of the legendary franchise, which he is currently developing as a new series:
"I've taken over The Twilight Zone. I'd love to direct one - at least the pilot. It's really not easy to jumpstart an anthology show, particularly because it's hard to pair them with other things. The production is complex too, because you don't have scanning sets and you have a revolving cast. But I like the challenge. If we can get Twilight Zone to a place where A-list talent is participating, then it would emulate the experience of the Rod Serling show which had, you know, William Shatner, Agnes Moorehead, Burgess Meredith... all these terrific actors doing these really serious morality tales. If we achieve that it could be really something."
---
Person of Interest
Here's a promo for episode fifteen, "Booked Solid." [SpoilerTV]

---
Once Upon a Time
Here's a trailer for the next episode, "Manhattan." [KSiteTV]

---
Grimm
Here's a teaser trailer for the show's return next month. [Den of Geek]

---
Touch
Here's a promo for the third episode of season two, "Enemy of My Enemy."

---
Supernatural, Arrow, and The Vampire Diaries
Before we get to the individual news items, it should be noted that the CW has officially renewed all three shows for their ninth, second, and fifth seasons, respectively. [Deadline]
---
Supernatural
Here are some promo photos for episode fifteen, "Man's Best Friend With Benefits." [BuddyTV]
---
Arrow
Star Stephen Amell discusses what to expect from this week's episode, "The Odyssey":
Episode 14 is a radical departure for the series based on how most episodes have been structured, and it will be probably the toughest episode for me to shoot.
[TV Line]
Here's a general promo for what's ahead in the rest of season one.

Episode eighteen will reportedly be called "Salvation." [SpoilerTV]
Here's a new poster and cast photos. [SpoilerTV]
---
The Vampire Diaries
Here's a promo and a sneak peek at this week's episode, "Down the Rabbit Hole." [KSiteTV]

The eighteenth episode will reportedly be titled "American Gothic." [SpoilerTV]
---
Being Human (UK)
Here's a promo for episode three.

---
Beauty and the Beast
Here's a promo and a sneak peek for this week's episode and thirteenth overall, "Trust No One."

Here are some promo photos from episode fourteen, "Tough Love."
And here are some from episode fifteen, "Any Means Possible."
---
Additional reporting by Amanda Yesilbas and Charlie Jane Anders.