This week on TreeHugger, a wind-powered bike zips at 140 mph, a boat made from 100% trash sets sail, an astronaut harvests space cucumbers, insect-inspired LED lamps, and more!
Is AI Moving Too Fast? | Future Tech
23-Foot Boat Made from 100% Trash Uses Solar Power (Video) Made from plastic bottles, old advertising banners, and other "trash" (read: misplaced raw materials), it boasts six solar panels to power an electric motor when there isn't wind enough to sail.
With LEDs, Robotics and E-Waste, Biometric Sculptures Pay Homage to Disappearing Fireflies "Firefly Projects," biometric sculptures made from recycled materials that use sound and light to echo the insects' beauty and fragility.
HP Unveils EcoPOD Data Center with 95% Efficiency The company revealed EcoPOD, short for "Performance Optimized Data Center," a modular data center that claims a Power Usage Efficiency (PUE) of 1.05.
G/O Media may get a commission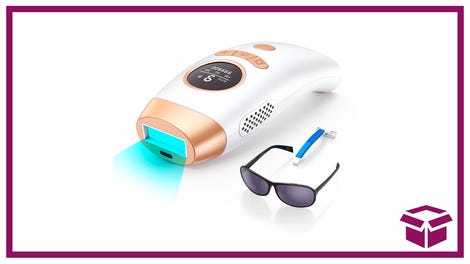 58% Off + Coupon
IPL Hair Removal Device
Google Earth, Columbia University Reveal World's Most Comprehensive Seafloor Map (Video) The map is topographical, showing the underwater mountain ranges and deep trenches that form the various ecosystems in the sea. And the new information doubles what Google already had mapped in the Google Earth platform.
How Green is Apple's iCloud? Here's the questions I'd like to see answered...
Japanese Astronaut to Harvest Cucumbers On International Space Station Considering the recent hubbub over cucumbers infected with E. coli in Europe, it's not surprising some folks might consider more, um, technological ways to grow them. A Japanese astronaut plans to harvest cucumbers aboard the International Space Station.
Cyclist Argues Against Bike-Lane Police Fine In Hilarous Video I think this cyclist makes a strong, and admittedly funny point when he illustrates why cyclists sometimes don't, or rather can't, ride in the bike lane. Somehow, running into the obstacles rather than just pointing them out makes the problem a lot more apparent.
10 High-Tech Bike Accessories to Improve Your Commute From a better (less expensive!) pannier box made from 80 percent recycled corrugated plastic to the latest in dynamo chargers, inflatable helmets, ultra-protection rain gear, and more, we've gathered a few of those favorite things that can make your daily bike commute ever more pleasurable.
140mph Electric "Wind-powered" Superbike Wind entrepreneur Dale Vince has built a "wind-powered" electric supercar that has already garnered a lot of reaction, and now he is sponsoring a "wind-powered" superbike too. In fact, it's going to race at the legendary TT races in the Isle of Man.
Ask Pablo: Could A Hacked Hummer H3 Really Get 60 MPG? Let's take a look at where this particular claim comes from and then figure out if it is even theoretically possible without attaching a sail to the roof or installing pedals.