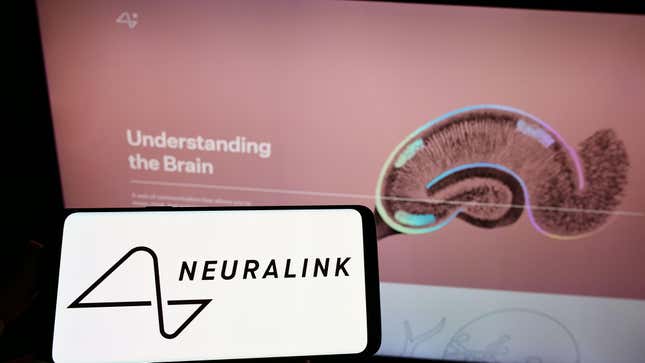 Neuralink, Elon Musk's brain implant company, is facing a new roadblock on its extremely ambitious avowed quest to cure blindness and paralysis. The Food and Drug Administration has shot down Neuralink's application to proceed to human trials with its device, according to a Thursday report from Reuters, attributed to seven current and former Neuralink employees.

Did Elon Musk Regret Buying Twitter? | Walter Isaacson Interview
For years, Musk has repeatedly claimed that human trials for his brain computer interface are right around the corner. In 2019, Musk said his company was angling for FDA approval by the end of 2020. In 2021, the billionaire tweeted that his company might advance to human trials later the same year. In April 2022, Musk reportedly said that Neuralink was hoping to get to its first human implant before 2023, according to Reuters. Most recently, in November 2022, the CEO promised that human testing was only "about six months" away in an underwhelming Neuralink "show and tell" event. Now, it seems the company is set to miss that self-imposed deadline too.
Despite this history of claims, Neuralink only filed its first application seeking FDA permission for a proposed human trial in early 2022, and the agency denied the company's request, according to Reuters. Gizmodo reached out to the FDA to verify this allegation and others, but the agency would not confirm the Reuters account.
"We generally cannot confirm or deny the possible existence of a pending product application. For this information, we suggest contacting the company," FDA spokesperson, Carly Kempler, wrote to Gizmodo in an email. In response to specific questions about the Reuters report and Neuralink's goal of human trials, Kempler additionally said, "we have nothing further to share at this time."
Gizmodo reached out to Neuralink for more comment, but did not immediately receive a response. As with Musk's other companies, like Twitter and Tesla, Neuralink rarely, if ever, replies to journalist inquiries.
Yet it's fair to say that an FDA rejection would just be another thing on the accumulating list of regulatory hurdles Neuralink seems poised to have to overcome. The Musk-owned biotech company is already under at least two federal investigations by the U.S. Department of Agriculture and Department of Transportation for alleged animal welfare violations and possible mishandling of hazardous biological material, respectively.
Why would the FDA deny Neuralink's human trials application?
The FDA green-lights about two in three human-trial applications for medical devices on the first round, and about 85% on the second round, according to Reuters. So why didn't Neuralink get approval?
Based on accounts from multiple Neuralink workers, Reuters noted that the agency rejected Neuralink's application primarily out of "major safety concerns." Big sticking points apparently included the biotech devices' lithium ion battery, multiple small parts and wires that could end up dislodging or moving around the brain, and the unresolved question of how to safely conduct implant removal.
Neuralink has faced legal and public pushback from at least one animal rights and anti-animal testing advocacy group over claims that its devices and practices are unsafe and inhumane—even for its monkey test subjects. The Physicians Committee for Responsible Medicine alleges that hundreds of primates have endured undue (and horrific) suffering as a result of Neuralink's experiments. Musk's company has, in turn, denied PCRM's claims and defended its animal testing practices. "At Neuralink, we are absolutely committed to working with animals in the most humane and ethical way possible," it wrote in a 2022 statement.
What does FDA rejection mean for Neuralink?
If the reports of rejection are accurate, it still doesn't mean Neuralink will never have its devices implanted in people. It just means the company will have to address the FDA's concerns and try again.

However, despite Neuralink's lofty aspirations to eradicate multiple human ailments and create cyborgs capable of surviving an AI-apocalypse, the company's tech is not necessarily that different or notable compared with competitors. Many other corporations and institutions are researching brain computer interface devices, which use electrodes to provide a communication channel between the brain's signals and a computer.
At least one direct competitor, Synchron, beat Neuralink to human trials, gaining FDA approval to implant its device in a human in 2021. The company said it successfully implanted a BCI device in a person for the first time in July 2022. According to a previous Reuters report, Musk attempted to concoct a deal between Neuralink and Synchron, following the latter's landmark achievement. Synchron apparently wasn't interested.

Correction 3/3/2023, 9:23 a.m. ET: An earlier version of this story misattributed sourcing. Reuters cited information it received from multiple current and former Neuralink employees.