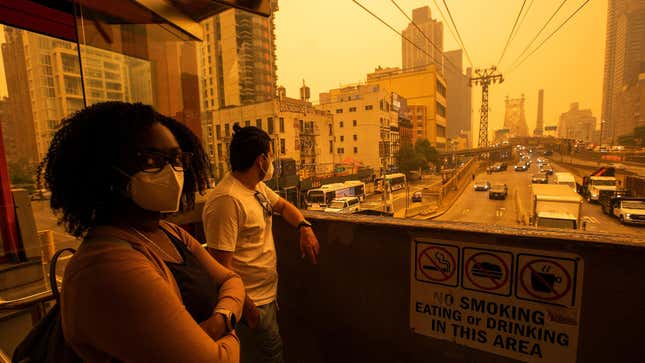 The sky above New York City glows with a menacing orange color akin to the desert wasteland seen in films like Mad Max: Fury Road. With Canadian wildfires bringing a haze down onto the northeast U.S., users have helped the U.S. Environmental Protection Agency's air quality app climb to be one of the world's most-popular iPhone applications.
How To Set Up Private Relay on iCloud+
As of Wednesday afternoon ET, the EPA's AIRNow app sat at number 13 most downloaded free apps on the App Store for iPhone. This made it more popular than Netflix, Cash App, Snapchat, Telegram, and Facebook.
So if the hell-like orange glow wasn't enough to keep you inside, maybe the official air quality index will.
According to data from IQAir, New York City's air quality has become the worst of any city on Earth. The Air Quality Index for NYC currently hovers around a "Hazardous" rating of 342, which is consistent with the EPA's own measurements last tested at 3 p.m. ET. Local air testing stations shown by Google data rank the New York metropolitan area's air quality from the low 200s up to around 290 in parts of Brooklyn and Manhattan, which is ranked as "Very unhealthy" and could cause serious health effects to people, especially those with respiratory issues.
More than 400 wildfires in Canada are impacting most of the country's provinces and territories. According to AP, more than 20,000 people have been displaced by the blazes. Canadian officials have declared this summer season could be the worst period of wildfires in the country's history, and more than 100 fires currently burning around the province of Quebec are currently out of control.
The wildfires have also impacted the northern parts of the midwest. Cincinnati, Ohio and Indianapolis, Indiana are both experiencing unhealthy levels of air pollution, as of reporting.
Wildfires often result in serious air quality problems. The Pacific northwest has dealt with this issue for years. Last year's wildfires across the region resulted in Portland, Oregon briefly taking the title for worst air quality in the world.
---
This article is part of a developing story. Our writers and editors will be updating this page as new information is released. Please check back again in a few minutes to see the latest updates. Meanwhile, if you want more news coverage, check out our tech, science, or io9 front pages. And you can always see the most recent Gizmodo news stories at gizmodo.com/latest.