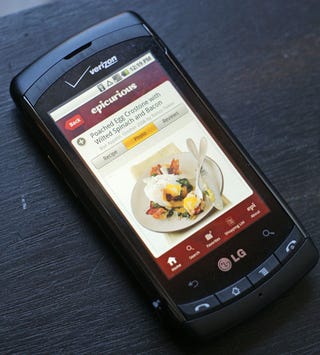 Epicurious is a must-download on any platform its available for, and a sore exclusion on any platform it's not. Today, finally, Epicurious, and its thousands of recipes, is available for free on Android.
The Android version of the app is nearly identical to the iPhone version, meaning that it's comprised of a recipe browser, suggest recipes, a search function and a shopping list. In each recipe, you'll find step-by-step cooking guides, photos and ingredient lists. I mean, obviously—it's a recipe app. The real value here is in the database, which is spectacularly huge.
As is too often the case with Android apps, Epicurious hasn't made the jump from the iPhone unscathed. The interface suffers slightly, but most noticeable is the difference in performance—on a fresh Android 2.1 install on an LG Ally, app input could often take seconds at a time, to the point that it was hard to tell if a button really is a button.
NEW YORK, May 25, 2010 – Epicurious.com, the most award-winning food site, today introduced its first application in the Android Market ™. The free application, "Epicurious' Recipes & Shopping List: On the Go and In the Kitchen," allows users to browse and search Epicurious.com's database of over 28,000 editor-created and tested recipes, toggling between an easy-to-view shopping format, and a recipe format that shows one instruction step at a time.

"We want our brands and content to be available on all platforms, wherever our readers are," said Sarah Chubb, President of Condé Nast Digital. "I am delighted that we are further extending the reach of Epicurious by bringing this useful app to the Android Market."

"Their exclusive voice recognition functionality and widget capabilities help to create an entirely new and innovative experience for our users," says Tanya Wenman Steel, editor in chief of Epicurious.com.

"Epicurious' Recipes & Shopping List: On the Go and In the Kitchen" for Android ™ features:
Proven recipes: Over 28,000 professionally tested recipes to ensure a delicious meal. Sources include two of the most respected brands in the business, Gourmet and Bon Appétit, plus web-exclusive recipes from renowned chefs and cookbook authors.
Voice Recognition Search: Speak the name of an ingredient or recipe into the phone and instantly receive recipes.
Homepage widget: Click here to find out what Epicurious.com's delicious recipe of the day is.
Browse functionality: Browse popular recipe collections, from Weeknight Dinners to Cool Cocktails. Select a recipe collection from the Home screen, then swipe to flip from recipe to recipe.
A robust search engine: Swipe through cool icons on the search screen to filter by what's in your fridge, what's healthy, what's in season, and more. Find inspiration browsing by type of dish, main ingredient, cuisine, dietary consideration, dish type, and season or occasion. Or, search recipes by keyword.
Saving and sending functionality: Save recipes to your Favorites by tapping the plus sign on any recipe image. E-mail any recipe to yourself or to a friend.
Shopping List: Shop on the go by saving recipes to your Shopping List (just tap the plus sign on any recipe image). At the store, check off items as you shop.
Cookbook mode: Tap "view recipe" to see the recipe in step-by-step view for easy-to-follow instructions in the kitchen.

The "Epicurious' Recipes & Shopping List: On the Go and In the Kitchen" application is available free in the Android Market or at http://www.android.com/market/