This is Apple's biggest year yet—the line may sound trite, but at least this time, it actually holds some weight. Yesterday, not only did Apple finally give in to a (way) bigger iPhone, but after years of what's seemed like years of will-they-or-won't-they, Apple has finally entered the smartwatch game. And at least from what we've seen so far, the whole bunch is pretty damn impressive.
Add in a mess of neat new features to all that shiny hardware, and there is quite a bit worth catching up on. Here's everything you need to know about Apple's biggest announcements.
---
It's finally here. The shadow of an "iWatch" has already spawned an army of smartwatches but now Apple's first wearable is here in the flesh. It's beautiful, it's called the "Apple Watch," and you control it by using that little watch knob. [More]
---
G/O Media may get a commission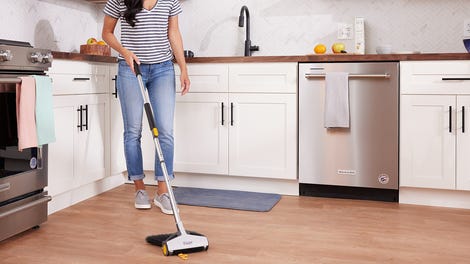 BOGO 50% Off
Flippr - BOGO 50% Off
When I say I had an Apple Watch hands on, I mean literally that and not much more; it went on my wrist, and cycled through some display modes. But after wearing it, and seeing a trained-up Apple professional put it through some delicate paces, it's clear that the Apple Watch could live up to its promises. [More]
---
The 5.5-inch iPhone 6 Plus is Apple's biggest phone to date, and the second new, bigger phone the company is introducing today. While other manufacturers have experimented with larger phones—or even tablet-sized phones—Apple's remained small, almost stubbornly so.The new 5.5-inch phone is an admission that some people might benefit from a little more real estate. Here's what you need to know about Apple's massive smartphone future. [More]
---
Say hello to Apple's 5.5-inch powerhouse smartphone, the iPhone 6 Plus. It's the largest phone that our favorite Cupertino fruit company has ever produced, and we just got our hot little hands on its big, honking chassis. Seriously, compared to any iPhone you've ever held, this handset is HUGE! It's amazingly thin, and incredibly solid, but it barely fits into my hand at all. Just see how those fingers struggle to grasp the new iPhone in the picture above. [More]
---
This is it. Apple just announced the iPhone 6—and the iPhone 6 Plus—a sleek sliver of aluminum that comes in two sizes. The screen on the smaller of the two measures 4.7-inches diagonally, and depending on the nature of your needs (and the size of your hands) it might just be the perfect phone for you. [More]
---
I hate to be the person to break this to you, but the iPhone 5S in your pocket or purse is tiny. It's so small by today's smartphone standards that Sony released a compact version of its flagship that's still a whole lot bigger than the 5S. It was time to grow up. And the iPhone 6 has done that beautifully. [More]
---
We've long known that iOS 8 was a powerful (mostly under-the-hood) upgrade. But on its official launch day, Apple announced a few new features that really take the operating system to the next level. And you won't even have to hunt very hard to find them!
Pro Tip: iOS 8 will be available on September 17, so you won't have to wait very long either. [More]
---
The Mac had the mouse. The iPod had the clickwheel. And the iPhone had the touchscreen. So what does the Apple Watch have? Something called the "digital crown," a tiny knob inspired by the stem on traditional watches, and a "Taptic engine" that helps it communicate. They didn't get the most play in today's big, Bono-packed spectacle, but they're pretty damn interesting. [More]
---
The new generation of iPhones isn't only increasing in size but speed as well. Apple just announced its next-generation A8 processor that will be baked into the iPhone 6 and most likely future iPad Airs. Apple confirms rumors that the A8 has over 2 billion transistors and is 13 percent smaller, 25 percent faster, and 50 percent more efficient and faster graphics than its A7 predecessor. [More]
---
Among all the other goodies being packed into the brand new iPhone 6 and 6 Plus, the phone comes bearing the newest generation of Apple's M chip—the M8. And it might finally turn the iPhone into the fitness tracker we've been waiting for. Or at the very least, the fitness tracker we've been waiting for's companion. [More]
---
The iPhone 6 is here! It's sleek and rounded, just like the leaked photos we've been seeing for months. But now we finally know what's inside that Jony Ive-designed shell. How's it measure up to the stiff smartphone competition? Let's see. [More]
---
Today is a sad day. Today is also a happy day for several exciting reasons, but today is a sad day for one very specific reason. Today is the day the iPod Classic died. [More]
---
Something I was watching closely as the Apple Watch was revealed today: Which typeface would grace this shiny, tiny new device? Well, it's not Helvetica, the troublesome font that Apple recently adopted for its iOS and OS applications. It's a brand-new typeface that was designed for excellent readability—by Apple. [More]
---
Sure, the highly anticipated Apple Watch may come packing lots of "features" and "practical functions." But let's focus on what really matters—the tiny, colored icons that say all the things we cannot. And apparently, in Apple Watch land, all those things are going to be impossibly creepy.