Coming as a surprise to no one who eagerly scanned the countless leaks, today Apple revealed the fourth generation Apple Watch which sticks with the wearable's square-faced, minimalist form factor, but improves how much info can be squeezed on that tiny display, and the watch's health-tracking capabilities.

The most enticing feature of the new Apple Watch is that OLED display which is now over 30 percent larger to reduce the bezels and max out the wearable's slightly larger case size.
The previous versions of the Apple Watch were all available in 38 and 42-millimeter options, but the new versions grow ever so slightly to 40 and 44-millimeters, without requiring different bands. Apple will immediately take advantage of all that extra screen real estate with a new watch face featuring up to eight complications, or widgets, including quick access to communicating with friends and family, that will all be accessible at a quick, squinting glance. Apple's also including a handful of new animated watch faces featuring water and fire giving you another useful distraction during meetings.
G/O Media may get a commission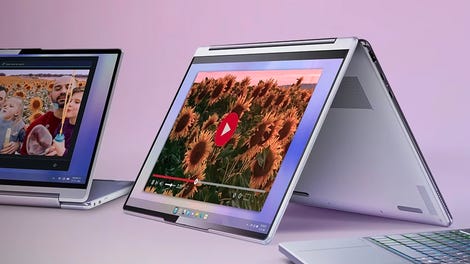 up to 70% off
Lenovo Spring Clearance
The new Apple Watch's crown dial now has haptic feedback that subtly clicks as you turn it, and the speaker has been upgraded and moved so that Siri's responses and speakerphone calls are actually audible in noisy environments. The Series 4 also features a brand new gyroscope and motion-detecting hardware that will improve the watch's ability to track your exercise routines, but also detect if you're immobile after a fall, automatically contacting emergency services.

Flipping the new Apple Watch over reveals a couple of other major improvements for those who've come to rely on the wearable as part of their fitness routines and health tracking.
When it comes to measuring your heart rate, the sensors used in most smartwatches, fitness trackers, and even previous versions of the Apple Watch, don't provide the most accurate results. They all rely on bright LEDs and photosensors to measure the flow of blood as it moves through capillaries under your skin. But raising and moving your arms when exercising can affect the flow of blood through your limbs, which is where watches and fitness trackers make their measurements, resulting in inaccuracies.

Apple continues to pitch the Apple Watch as a health tool—not just a sidekick for your iPhone—which explains why the company has upgraded the heart-monitoring hardware in the new Series 4 sp that is capable of taking an electrocardiogram (ECG, for short) made possible by a now-standard ceramic back that was previously only available on the Series 3 Apple Watch Edition, and the GPS-only version.
In addition to simply measuring blood flow, the Apple Watch can now detect the electrical activity of the wearer's heart, providing a far more accurate measurement of heart rate, even during vigorous exercise. An ECG can also be used to detect (with an FDA clearance) abnormal heart rhythms, cholesterol build ups, and other conditions before they lead to bigger concerns like a heart attack. The data coming from the Apple Watch Series 4's on-demand ECG measurements are stored in the iOS Health app, and can be exported as PDFs to be shared with a doctor.
Apple's also made internal improvements to the Apple Watch Series 4 that won't be obvious when looking at the wearable, but should be when using it. The Series 4 is the first Apple Watch to make the leap to a 64-bit operating system, with a new dual-core S4 processor that Apple promises is twice as fast, hopefully making it feel a little snappier when loading and switching between apps. But, the new processor and speed doesn't come at the cost of battery life, with a claimed 18 hours of use between charges.
The Apple Watch Series 3 started at $329 for the GPS-only version that skipped cellular connectivity, and $399 for the always-connected version. The Apple Watch Series 4 starts at $399 for the GPS-only version, and $499 for the cellular option, available for order starting this Friday, and shipping on September 21.

The Apple Watch Series 3 also lives to see another day, with a price drop to $279 for the GPS-only version.
This post has been updated throughout to reflect most up to date information.