The iCarta iPod Dock and Toilet paper dispenser has to be the most notorious of iPod accessories over the years. There's not a week that goes by that a reader doesn't send in a tip to this little gem. We've finally gotten our hands on one, assembled it, and put it through some "strenuous" testing for its first-ever review.
So how does this little iPod Speaker/Dock/TP Giver stack up? After exercising every function (wink wink) this baby can do, we can say it performs pretty damn well.

The iCarta TP dock comes pretty much already assembled. All you have to do is put two screws into your wall or cabinet, mount the unit, and assemble the toilet paper roll. It's a a ten-minute job at most, even for the most mechanically deficient. Once you're in, you're going to have to find an outlet in your bathroom to plug this into. This step may be more difficult for some, so scope out your bathroom layout before you buy one.
G/O Media may get a commission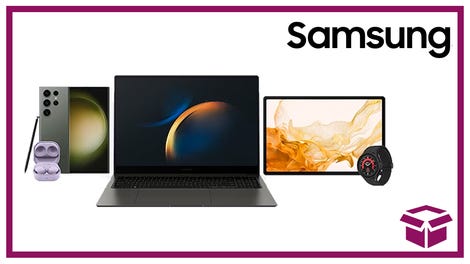 24 hour deals
Discover Samsung - Daily Deal
The instruction manual claims that the dock works with just about every iPod, including the iPod shuffle. What I found was that my 5G iPod Video worked just fine with it, but my 3G iPod kept locking up. Maybe it just couldn't take the smell.
Once you do get your iPod working, the unit has a power button, two volume buttons, and a selection button to choose between your iPod, iPod Shuffle, or line in. There's a blue LED that glows to indicate which input you're currently using. It's basic, but gets the job done. The speakers are all right, but nothing mind-blowing. It's about the sound quality of, say, a cheap Logitech iPod dock.
On to the toilet paper functionality. It's less stable than a traditional toilet paper holder, so if you're one of those who slams down on the roll, don't. You're going to rip the entire dock out of the wall, sending both it and your iPod flying into god-knows-where. Nobody wants to dig an iPod out of the toilet after they've "finished". But if you're just grabbing a couple of sheets out normally, the roller performs fine.
Its $99 price tag may be a bit much for just something you use a couple of times a day. But if you're like me and always wanted to listen to music in the shower, while brushing your teeth, or dropping the kids off at the pool, then it's a useful gadget. When you're not actively listening to music, it also keeps your iPod charged.
Oh, and by the way, I wrote the bulk of this review sitting on the toilet listening to the iCarta. Any readers have any recommended songs for toilet time? Comment, or send us an email to tips.