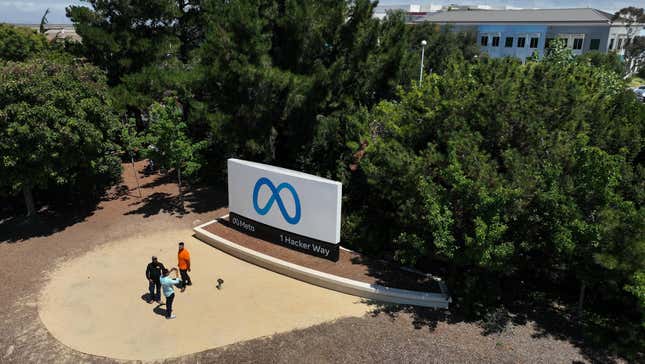 Meta is a multi-headed behemoth of a tech company, but for all its hungry maws, it is also somewhat predictable. Give it a problem like new regulations that will force it to be far more transparent about its targeted advertising business, and it will comply—but only on its own terms. The owner of Facebook and Instagram is reportedly considering letting European Union users pay for the privilege of avoiding any and all ads, a major shift for the company that popularized social media's business model for the past decade.
Russian Court Says Meta Is "Extremist Organization"
On Friday, The New York Times reported based on three anonymous sources who knew of Meta's plans that the company would offer a subscription model for EU users. Simply put, this subscription would let users pay for an ad-free experience. Both Facebook and Instagram would still maintain a free version that includes ads. The report does not mention how much this subscription would cost or any other features that would come for payment, but the move would be a major shift for the company which has long depended on the users-as-product model.
This reported move is an attempt to avoid some of the complications arising from the EU's Digital Services Act. The law requires major tech companies, especially those with large platforms, to be much more transparent about their targeted ad and content moderation practices. The law passed through the European Parliament last year, and though it has yet to take effect, the EU has already started to enforce some of the law's mandates.
Meta has already suffered blows under the EU's tightening ad dragnet. Antitrust regulators in Germany moved to block Meta from combining data about its users from across its major platforms, which include Facebook, Instagram, and WhatsApp, as well as from other websites. Meta uses all that collected data to entice advertisers onto its platforms. In May, the EU fined Meta $1.3 billion for sending EU data to the U.S.
When reached by Gizmodo, Meta declined to comment. 
There are few social media networks that allow users to pay for the privilege of skipping ads. Twitter, under the auspices of the X-obsessed Elon Musk, promised users who pay for $8 verification they would see half as many ads as non-subscribers. Meta already offers a paid-for verification service that allows for more proactive account monitoring for $12 on the web ($15 on iOS). Other than extra impersonation monitoring, it doesn't offer any more extended ad services.
Instagram already announced last month it was offering a chronological feed for Stories and Reels in Europe while promising to provide more information on how posts are ranked in its AI algorithms. Just this week, the company added a new setting for users that would restrict Meta from using posts to train its AI models. The European Union is already trying to get major tech companies to put systems in place that could recognize and label AI-generated content.
Other tech companies are scrambling to comply with the EU's ad mandates. Last week, Google said it will soon update its Ad Transparency Center to show EU users more about its targeted ad practices.