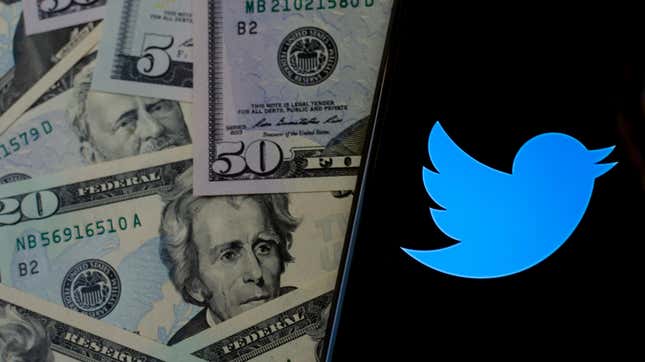 Elon Musk makes a lot of big promises. Often, these never make it across the expansive gulf that lies between the world's richest man's mind and reality. Yet in a rare occurrence, one such pledge appears to have successfully traversed the void.

How To Remove Followers From Twitter
"Half ads," are no longer "coming soon" to the feeds of paid Twitter Blue subscribers, according to the site's help center. Instead, half ads are here, the Blue feature list now declares. Per the new description, for their $8/month payments, Blue subscribers "see approximately 50% fewer ads in the For You and Following timelines," it says. "As you scroll, you will see approximately twice as many organic or non-promoted Tweets placed in between promoted Tweets or ads," the blurb further explains.
Granted, that description also comes with a lengthy disclaimer:

There may be times when there are more or fewer non-promoted Tweets between promoted Tweets. The half ads feature does not apply to promoted content elsewhere on Twitter, including but not limited to ads on profiles, ads in Tweet replies, promoted events in Explore, promoted trends, and promoted accounts to follow. Blue subscribers will have access to this feature after their account has been reviewed for eligibility and the blue checkmark has been applied.
But still, Twitter did it! Chief Twit Musk tweeted a thing months ago, and now the platform says that idea has shipped. Incredible! This is what it means to move fast and break things, right? Innovation in action! You make a promise to halve the ads, you follow through!
Except, then there's the caveat: It remains very difficult to verify if Blue subscribers are actually seeing 50% fewer ads in their feeds. I, nor anyone else at Gizmodo, pays for a Twitter Blue subscription.
In lieu, most of what we have to rely on are secondhand anecdotes. "Practically, I don't notice a difference in the amount of ads," one Blue subscriber, tech researcher and software engineer Jane Manchun Wong, told Gizmodo via DM.
Other aspects of Twitter under Musk also make comparison and analysis here difficult. For one, it's no longer possible to distinguish between Twitter Blue subscribers and legacy verified accounts on the platform, so accurately surveying people about their ad content would be challenging.

Then, there's the issue that lapsed Blue subscribers, who stop paying for the premium account designation, still seem to maintain their blue check status. Though the checkmark doesn't go away, who's to say if all the features do or don't stick around?
On my own, free-tier account, a promoted post seems to show up about once every two to four tweets in the "Following" feed and MUCH LESS frequently in my "For You" feed. I had to scroll past more than 40 tweets before I got an official ad in the algorithmically generated feed (although arguably, every post there is sort-of an ad-adjacent spot for something or someone you don't necessarily care about). After that initial span of un-promoted content, ads started to show up about once every five tweets in For You.
Maybe it's always been this way. Or maybe, not. Maybe Wong is right and nothing about her feed has changed. Maybe, just maybe, Twitter opted to double the ad count in unpaid users' feeds and call that "half ads" elsewhere. But, like I said, Gizmodo has no way of verifying this at the moment.
Note: If you are a Blue subscriber, and can prove it, please let Gizmodo know what your ad-rate is! (I won't embarrass you. I promise.)
This week's update to the Twitter Blue feature list, also includes at least one other change: An adjustment to how paying customers have their posts boosted. Previously, priority Blue tweet-hyping was limited to replies, according to Tech Crunch. Now, Blue subscribers will have their musings given "prioritized rankings in conversations and search."
Once again though, even with a version of Twitter's recommendation algorithm unveiled to all—how this boosting change plays out in actual feeds is difficult to verify. Gizmodo reached out to Twitter's press line for more information. In response, the company sent a load of shit.