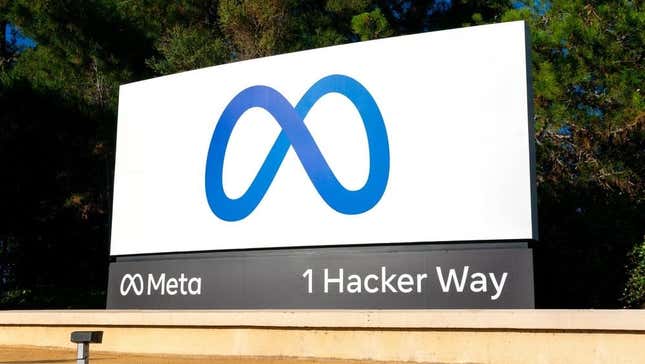 Facebook's advertising system went haywire starting around 2 am on Sunday morning, overcharging customers and wasting money on ads that didn't work. Some advertisers who speculated they were charged for ads that no one saw, which Meta denies. Reports suggest Meta, the social network's parent company, charged some advertisers more than double what they agreed to pay, ranging from hundreds to hundreds of thousands of dollars. Meta briefly stopped showing ads on part of its network with practically zero communication to its millions of customers.
Meta's Apparent Firing Goof
The company confirmed the bug happened and promised to follow its "normal refund process," but shared very little about what went wrong. The problem comes just days after the Meta began its third round of layoffs in six months.
"A technical issue that has now been resolved caused ad delivery issues for some advertisers," a Meta spokesperson said. The glitch primarily affected ad delivery on Facebook, but also hit Instagram to a lesser extent, the spokesperson said. Advertisers affected by the glitch tweeted they didn't receive a notification about it.
On Sunday, an untold number of advertisers noticed a dramatic spike in the amount Meta was charging them, going beyond the limits they had set for certain campaigns. In some cases, the system ate up entire advertising budgets in a matter of hours. Worse, the ad campaigns weren't performing better—that is, they weren't exposing the ads to more people or driving more clicks—even though Meta was pulling more money from people's accounts.
The problem "resulted in some miscalibration for advertising campaigns that were focused on optimizing for certain sales objectives. This caused faster campaign spending, resulting in more variable costs," the spokesperson said.
The Meta ad network is opaque even to people who work in the ad tech business. In general, the way it works is that advertisers tell Meta their goals, set a budget, and wait as the company's algorithm runs campaigns on their behalf. For example, a toy company might say it wants to spend $5,000 over two weeks to try and get parents to visit its website. Meta controls exactly how much money is spent and when. Advertisers can check Meta's system for a report on how well the ad campaign is performing, but advertisers don't know exactly what's happening on the other side.
"We do not have evidence that we charged customers for ads that no one saw. If no impression occurred, the advertiser would not be charged," the Meta spokesperson said. By design, Meta allows its system to spend up to 25% over the daily budgets advertisers set. That "may be what some of the reports on Twitter are referencing. We do not have evidence of exceeding this 25% increase on daily budgets amid the technical issue on Sunday, however," the spokesperson said.
With no word from the company, marketers were left with a difficult decision: pause their ad campaigns, or stay the course and trust that Meta would make things right. For large companies, taking that kind of gamble on a single day's worth of ads might be no big deal. But millions of small businesses depend on Meta's ad network, and many operate on razor thin margins. For them, the consequences can be severe.
"We shouldn't have to take action when Facebook has a bug. But for the small business who don't have an ear at Facebook, there aren't a lot of options," said Barry Hott, a long-time advertising consultant who's managed Facebook ad campaigns for well over a decade. "Meta is just counting on advertisers to bend over and take it."
Even compared to other tech companies, Meta has problems with transparency. Often, the only indication advertisers have that Meta knows something is wrong is a status page that notifies advertisers whether the system is running or not.
Meta can get away with this kind of issue because there isn't a ton of competition. Meta and Google control almost 50% of the digital advertising market. Companies like Amazon, TikTok, and Apple are growing their advertising businesses. But for certain kinds of ads, Meta is essentially the only game in town.
"Meta is extremely opaque, and it always has been," Hott said. "All we get is a generic explanation that 'we are aware of an issue.' That's better than nothing, but it's not enough."
The company's refund offer is good news for the hordes of frustrated advertisers, but Hott said it's a slow, complicated process. "You can burn hours and resources complaining and begging them for refunds and credits. Sometimes it works, but it may not be worth the investment," Hott said. "And when the restitution comes, it can be months later."
Update, Apr. 25, 11:19 pm EST: This story has been updated with additional comments from Meta. Earlier reports suggested the glitch only affected Facebook, but Meta confirmed the problem affected Instagram as well.

Correction, April 26, 2:13 pm EST: An earlier version of this story stated that no one saw the extra ads that advertisers were being erroneously charged for. It has been updated to show that advertisers said that, but Meta said that was not the case.