If your week was anything like mine, it started off fine, quickly devolved into a neverending stream of shit, and capped off with a freak storm that plunged you into darkness. Of course, brighter times and sunny skies lie ahead—unless you work at Apple, where it's not even safe indoors. But hey, no matter what, you can always count on someone else's life being more ridiculous than yours.
Ben Greenfield is a cult figure among fitness fanatics, a guru to the sort of nerds who devote themselves to meticulously monitoring their own biometric data for insight into their personal health. He has more than 50,000 Twitter followers, 60,000 Facebook fans, and 30,000 YouTube subscribes. Now he may become known for something else entirely: Injecting himself with stem cells in hopes that it will make his dick bigger.
G/O Media may get a commission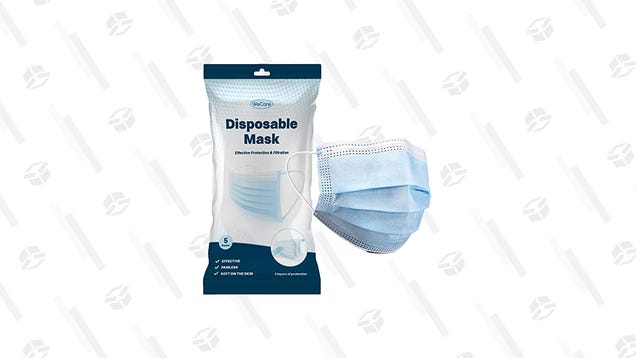 WeCare Disposable Masks With Elastic Earloops- 5 Pack
The engines are already pulling away by the time we get to a reported dryer fire. There won't be any footage of flames lapping up from the basement or smoke inhalation victims being wheeled into ambulances through the drizzling gloom—not tonight anyway. The rain makes shootings unlikely too, in Adam's opinion, but there might be car crashes, and if they're bad enough those can sell.
When Essential debuted the first-ever notched display on the PH-1, it was a bold, divisive statement about smartphone design. Then Apple put one on the iPhone X, and while some people still didn't get it, the sentiment around the notch shifted from confusion to curious appreciation, or even adoration. But now, after going to Mobile World Congress and seeing pretty much every other smartphone maker adopt the notch, the feature has almost entirely lost its cool.
The moment you first lay eyes on Black Panther's Wakanda, you can immediately see the care and attention to detail that went into realizing the fictional nation's diverse array of cultures. They blend elements of the fantastical with actual African iconography, languages, and tradition. But certain religious aspects have raised eyebrows.
He's running!!! Again. On Tuesday, President Trump announced that Brad Parscale, his digital strategist, will serve as campaign manager for his reelection effort. This is, basically, the worst possible news for Facebook right now, and it's already causing political trouble for the social media giant.
A new report authored by over two-dozen experts on the implications of emerging technologies is sounding the alarm bells on the ways artificial intelligence could enable new forms of cybercrime, physical attacks, and political disruption over the next five to ten years.

Damn it, I like the Dell XPS 13 again.

I never hated it—the laptop is too good to inspire hatred (though the placement of the webcam, which only seems to capture your chin in videos, comes close). But despite great battery life and a design that created an industry standard, the XPS 13 has been really boring. Yet this new white and rose gold XPS 13 feels totally refreshed and refined. More like a high polished machine laptop from Samsung or Google than from Dell. The 4K touch display framed by a white bezel makes it feel more like a smartphone than a yawn-inducing laptop, in a weird but good way. This design is so good that the rock solid laptop underneath feels like a surprise—as if design and function are rarely married together as nicely as in this new Dell XPS 13.
Though it would have made all the sense in the world if the sixth and final Infinity Stone—specifically, the Soul Stone—was hidden away in the heart of the vibranium meteorite that crashed into Wakanda, Ryan Coogler's suggested that's probably not the case. So the Soul Stone's still out there somewhere in the vast Marvel Cinematic Universe. But what if it's been hiding in plain sight this entire time?