Remember when the term "factory farm" was synonymous with a positive way to produce food? Neither do I.
But this April 9, 1961 edition of Closer Than We Think (which appeared in the Chicago Tribune) treats the phrase as a part of humanity's natural progression in the advancement of science. I imagine what a different world we'd be living in if "FACTORY FARMED!" were plastered on food packaging rather than "ORGANIC!" or "ALL-NATURAL!" That world somehow seems just as plausible given a few historical and societal tweaks. Those giant tomatoes could have been pulled directly from John Elfreth Watkin's December, 1900 piece for the Ladies' Home Journal. And those monorail tank cars are certainly reminiscent of the high-speed freightways used to transport food in the 1958 Disneyland TV episode Magic Highway, U.S.A.
The full text of the strip appears below.
Agriculture in the world of tomorrow will be so mechanized that farms will actually resemble factories. Crops and livestock will be raised on regular schedules under uniform and carefully controlled conditions.

"Sensors," those automatic control devices for today's wonder machines, will be adapted to the requirements of precisions agriculture. They will take the place of human judgement in deciding and reacting to soil conditions, crop maturity, moisture levels, weather forecasting, feeding needs, etc. Bendix researcher W. E. Kock has reported that instruments to do this already exist or will soon be developed.
A special thanks to Tom Z. yet again for being an invaluable resource for the Closer Than We Think series.
This post originally appeared at Paleofuture.com.
G/O Media may get a commission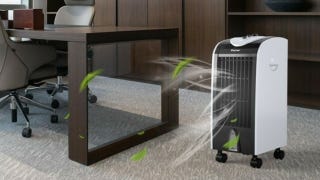 Save $10
Evaporative Portable Air Conditioner Cooler with Filter Knob