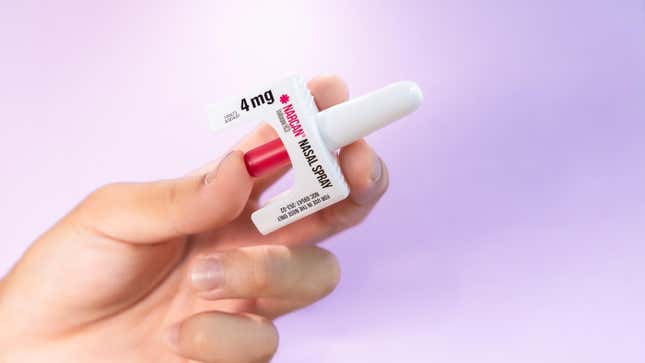 A highly effective, fast-acting treatment for opioid overdoses will soon be available in the U.S. over-the-counter. On Wednesday, the Food and Drug Administration approved an OTC version of Narcan, a nasal spray formulation of naloxone developed by the company Emergent BioSolutions. Drug policy experts and harm reduction advocates have long called for OTC naloxone, but it's expected to take months for the switch to be completed and other key details—particularly pricing—are still unknown at this time.
Lions on Oxytocin are Surprisingly Chill
Naloxone is an opioid antagonist, meaning it blocks the effects of other opioids in our system. This allows it to rapidly reverse the symptoms of an opioid overdose, which include trouble breathing, faint heartbeat, and unconsciousness. The drug can be delivered intravenously, intramuscularly, or subcutaneously as a shot and via nasal spray.
In the midst of an ongoing drug overdose crisis, naloxone has emerged as a crucial tool for preventing opioid-related deaths. But despite efforts to expand naloxone access in recent years by community advocates and the government, supplies of the prescription drug have remained unsteady. As recently as mid-2022, for instance, there were long-running shortages of injectable naloxone throughout the U.S. These shortages now seem to be over, but many experts have argued that OTC naloxone would be an important step forward in ensuring the drug's availability.
The FDA has been hesitant to approve an OTC version of injectable naloxone, but it has been pushing pharmaceutical companies to apply for the approval of a nasal spray OTC. Last December, Emergent—the creators of Narcan—announced that they had filed for such an approval and that they expected a decision by late March 2023. As expected, the FDA decided to give them the go-ahead for an OTC 4-milligram version of Narcan.
"The FDA remains committed to addressing the evolving complexities of the overdose crisis. As part of this work, the agency has used its regulatory authority to facilitate greater access to naloxone by encouraging the development of and approving an over-the-counter naloxone product to address the dire public health need," said FDA Commissioner Robert Califf in a statement. "Today's approval of OTC naloxone nasal spray will help improve access to naloxone, increase the number of locations where it's available and help reduce opioid overdose deaths throughout the country."
In its announcement of the news, Emergent stated that it would take until late summer for Narcan to be sold in stores and online retailers. In the meantime, they added, it would remain available through current distribution channels, including community programs and pharmacies with standing orders (standing orders allow the drug to be sold without a doctor's direct approval). Another lingering issue is the potential cost of OTC Narcan.
Advocates have long criticized the higher list prices of Narcan relative to other formulations of naloxone, which can run as high as $140 or more for a two-pack. Though community and government programs have often been able to buy Narcan at lower costs, injectable naloxone has remained far cheaper (as low as $5 or less a dose), making it more affordable and reliable for distribution to poorer communities.
"This over-the-counter designation is practical and symbolic: it will allow easier access to this life-saving medication, helping to saturate communities with the medication while normalizing it as a medication that should be in every medicine cabinet, first aid kit, backpack, or car," Alex Bennett, director of the Opioid Overdose Prevention Program at NYU School of Global Public Health, told Gizmodo in an email. "However, the high cost of the intranasal formulation will remain a barrier for many people in comparison to the much more affordable injectable formulation which did not receive the over-the-counter designation."
An Emergent spokesperson told Gizmodo in an email that the company will not comment on the expected pricing of its product at this moment. Meanwhile, in his statement, FDA Commissioner Califf went on to say that the agency will "encourage the manufacturer to make accessibility to the product a priority by making it available as soon as possible and at an affordable price."

Other OTC naloxone products could soon become available to the public. The nonprofit pharmaceutical company Harm Reduction Therapeutics has also applied for approval of their OTC naloxone nasal spray called RiVive, which was granted priority review by the FDA last December. Should their drug be approved, the company expects to launch RiVive by early 2024. The company has also said that its primary mission is to provide free or low-cost naloxone to everyone.
"We at the Drug Policy Alliance are thrilled to finally see the OTC status of certain naloxone products for the public. We hope that this move helps to raise awareness about the safety of naloxone, the ease of its use, and encourages people to carry naloxone," Sheila Vakharia, deputy director at the Department of Research and Academic Engagement at the Drug Policy Alliance, told Gizmodo in an email. "Questions still remain on how much it will cost and how we can keep this product affordable and accessible to the groups who need it the most, but it is still important to celebrate this victory. After nearly two decades of this overdose crisis that has claimed over a million lives to date, it is essential we make all life-saving tools as accessible as possible. We hope this is one step of many to expand access to essential harm reduction services and tools to save lives."
This article has been updated with comments from Alex Bennett of NYU, Sheila Vakharia of the Drug Policy Alliance, and Emergent.