Fujifilm's X100 series cameras are not for the masses. They are expensive, don't zoom, and don't fit in your pocket. And yet, if there's a single modern digital camera that has reached near cult status in the past few years, it's the X100. Enthusiasts flock to the retro-styled, fixed-lens shooters in droves. The latest iteration, the X100T, adds a handful of improvements that may go unnoticed by most, but to the seasoned photog they are heavenly additions to an already hallowed piece of gear...but doesn't fix one nagging flaw.
2011's X100, followed by last year's X100S, garnered most of their adoration with fashion appeal. I'm not saying they aren't great cameras functionally, I'm just saying that if they looked like, say, the Nikon Coolpix A, they wouldn't quite be the same object of desire. The $1300 X100T preserves all those gorgeous Leica-esque qualities along with the same 23mm (35mm full-frame equivalent) f2 lens, same 16 megapixel APS-C sensor, while adding some additional usability in the form of control tweaks, speed, and one or two brand-new features.
Over the holidays, I ended up toting around the X100T almost exclusively, even though I stubbornly lugged six cameras to my folks' place for the week. Yes, I have a sickness.
It's just that the X100T has this tremendously seductive quality. You feel cool, like one of those snobs who still shoots film (me). But beyond the looks, it has all the makings of a photographer's dream compact, starting with controls. They are direct, customizable, and clear.
The improvements are all welcome additions; from the re-tooled buttons on back to the more incremental aperture adjustments (the control ring moves in 1/3 stops instead of full stops like on the X100S). Every button is nice and clicky, including the terrific and super silent shutter button. There are six assignable buttons for customizing to your heart's content. You somehow feel like every option is at your fingertips without feeling like the camera is cluttered with buttons.
G/O Media may get a commission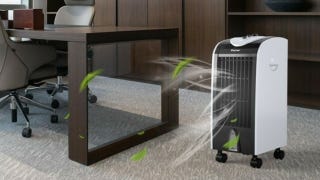 Save $10
Evaporative Portable Air Conditioner Cooler with Filter Knob
The X100T next to my Leica M6.
The one thing I can't get used to, which is present on all Fujfilm's X-series cams, is the shutter speed control. I have qualms with that analog-style dial on top. I find it slow and annoying. I will say, however, that most people like it. The power switch is also way too easy to flip on accidentally. I did this countless times.
The most stand-out new feature of the X100T is in the viewfinder. This camera has always been known for its hybrid system which lets you switch between an optical window and a 2.3 million-dot EVF, which is larger and clearer than before. The problem with the optical option on previous X100 models was that you had no way of checking focus. On the X100T, however, you get a tiny little electronic EVF in the corner of the optical view that shows a magnified portion of the image that you can check for precise manual focus. It works really great, actually. And it's something you won't find on any other camera. I also love how the superimposed frame-lines shrink and grow to correct for parallax. So nifty.
There are a few performance areas where Fujifilm has still not caught up with the rest of the pack. Focusing continues to improve year-by-year, but it's still not as fast as the systems found in the Sony a6000, Panasonic GH4, or Olympus OMD-EM1. The X100T just hunts around a bit. Continous tracking is just bad. Also, the EVF. It's overly contrasty and a bit noisy in low light when compared, again, to Sony or Olympus EVFs. These are minor quibbles though.
When it comes down to the business of taking high quality pictures, the X100T has serious chops. The 16 megapixel X-Trans sensor has always been lauded. Great in low light with excellent color reproduction. But I must say, there is one thing that bugs the crap out of me which is the reason I would never buy this camera despite how much I like it. You can see the problem when examining the RAW files.
Take this ISO 400 picture of a stark winter forest (click Expand for a larger view):
Looks fine when viewed small. But if you blow it up to its full-size and get nice and intimate, busy areas of detail have this odd swirly quality. Look at this crop!
Is it just me or does it look a bit like the world Frodo sees when he puts on the One Ring? I've seen this appear on multiple Fujifilm X cameras, and it has something to do with how the RAW data is being interpreted by the software, in this case, Adobe Camera RAW. I tried processing the same image with Capture One, a popular Adobe alternative, and the result was marginally better, but I still wasn't happy with the way detail was being resolved. It looks like some sort of smoothing or noise reduction algorithm is being applied to the RAW data. This type of smudging only shows its ugly face on a small fraction of images, but when it's there it bugs me to high-heaven, and I'm not able to look past it. That's why I would never invest in this camera. It may be an overreaction, but by golly, I am who I am.
Other than that, I just love shooting with a prime lens, and the X100T's 35mm equivalent lens is just what you want. You honestly don't need anything else for good old-fashioned reportage or street photography. I love moving my body to change composition as opposed to merely twisting a zoom ring. It's like a dance with reality. Spend some time getting to know the 35mm focal length and you will find yourself a better photographer. It's also the perfect camera for those wanting to learn how to shoot with rangefinders. Of course, the X100T doesn't have true rangefinder focusing, but learing to use an optical viewfinder and balancing exposure with nothing but meter readings is great practice for shooting on film with an old Leica.
The following are RAW files converted to JPG with no processing other than the default Lightroom color noise reduction. View our Flickr gallery for full-resolution versions:
If you're looking for cheaper alternatives to the X100T, there are a couple that come close, but none that really duplicate the combo of fast prime lens with a viewfinder. I personally love the Ricoh GR. It's pocketable and half the price of the Fujifilm while packing insanely sharp images. But it has a 28mm equivalent lens whose images can be a tad unnatural looking compared to standard 35mm. It also lacks any type of built-in viewfinder. Ditto the similarly spec'd Nikon Coolpix A. The only compact shooter with a fixed 35mm equivalent lens is the full-frame Sony RX1, which is extremely costly with extremely sluggish AF. That leaves the X100T in a unique little corner of the photo world. It's definitely an expensive camera at $1300, and you can save a bundle by going with the still-awesome X100S running, at times, for about $850.
I would gladly shell out for the X100T if not for Fujifilm's weird detail rendering problem. But for those that don't care about such levels of pixel-peeping, the X100T's excellent usability and attention to detail make it a dang fine photographer's tool.