I'm as baffled as you are that it's taken so long, but it seems someday we still might get the stadium we've all known architecture really needs: Turkey's Burasapor soccer team, nicknamed the "Green Crocodiles," could soon be getting an architectural masterpiece, a structure that will rival the greatest palaces of the last 200 years, even outdoing the timeless proportions of the Acropolis. It is a coiling green crocodile with blazing spotlights in its eyes.
Originally proposed back in 2010, the stadium has not yet been constructed—as if the world is simply unprepared for this heroic expression of the warrior spirit.
Every generation—huddle up—every generation, there is a paradigm-shifting project, something that begins as a mere rumor, perhaps, a ray of hope, a daydream, just a hushed whisper between friends, something cautiously tapped between colleagues over chat, a monumental undertaking that could redefine everything that came before.
G/O Media may get a commission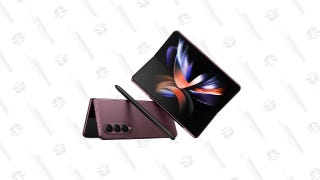 Save Up to $300
Galaxy Z Fold4
Think of the Manhattan Project, the U.S. Interstate, the moon landing. This 1.6 million square-foot wild animal, its mouth stretched terrifyingly open as if to feed on the very minds of the opposing team, causing epidemics of hemorrhaging and outbreaks of own-goals, is such a project. Turn away, world, this creature says, when you look long at the crocodile, the crocodile also looks back at you. [Sozuneri Architects via Nick Arvin]