Disney has released the first look at the savage world of Barsoom, from Andrew Stanton's live-action adaptation of Edgar Rice Burroughs' classic novel John Carter of Mars. Plus the director shared how much he's had to change from the book.
In an interview with The Los Angeles Times, Stanton (of Wall-E and Finding Nemo fame) shared this amazing concept art from his science fiction epic. Also in the lengthy interview: a lot of answers to questions that have been plaguing us about this massive movie undertaking.
One of the first thing Stanton tackled was the shortcomings of the novel itself — how do you make a movie out of a book that has a cliffhanger at the end of each chapter? (Burroughs' story was originally written as a serial.)
If it had been a perfect piece of literature I would have been a little too intimidated to tweak it. I had every desire to make it feel on the screen like how it made me feel reading the book, and to me that's the most important thing. And I thought the only way to get there honestly was to read the book, come up with a bunch of ideas, and never look at the book again...I looked at things like "Apocaplyto" and "Rome" and even things like "Shogun" and "Lawrence of Arabia," things that as a viewer I could accept as having a level of historical research. They give me a sense of what it would be like in that land and in that age. So then you ask, "Well, what if we just did our Martian research really, really well and treated it as a period film.
G/O Media may get a commission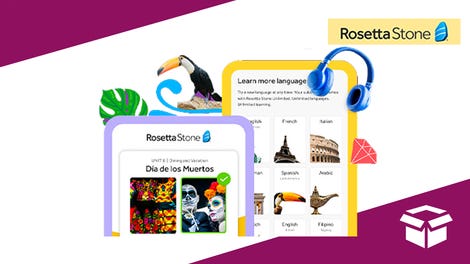 Extra 20% off
Rosetta Stone Lifetime Subscription - All Languages
But what will the film actually look like? According to Stanton, dirty and distressed:
People on my set could not distress things enough for me. Everything was pre-industrial; I wanted it to look made by hand. I wanted the pre-revolution days of Mars to look like tall ships on the skyline. And to get that to come across through the lens and then up on the screen, you just couldn't beat stuff up enough.
And finally Stanton explained why you won't be seeing any of John Carter at Comic Con this year:
I think what it was is the perception that it's getting harder and harder to stand out amid the din. We're going to do our special event to get some focus and separation. I know some people will read that as a sign that we're unsure of our property. It's just the opposite. We want to control how and what is being seen and the way it is presented.
Read the entire interview over at LAT.