Recently, Star Wars action figure fans were all flustered by the shocking news that a highly anticipated Princess Leia figure had suddenly vanished from preorders and distribution lists. For once however, this wasn't another example of Hasbro's ongoing female Star Wars figure problem.
Is AI Moving Too Fast? | Future Tech
For those not up to date in the weird, wonderful world of Star Wars figure collecting, a new figure based on Leia's appearance at the Yavin Medal Ceremony at the end of A New Hope was scheduled to be a part of Waves 8 and 7 of the 3.75" line of Star Wars: Black Series toys. Here it is in all its medal-bearing glory:
Lovely stuff.
Anyway, all was fine and dandy until Wednesday, when suddenly Yavin Ceremony Princess Leia vanished from webstores and distribution lists from Hasbro — her place in each wave replaced by a Stormtrooper and a Clone Trooper. Assuming that Leia had suddenly bit the dust, fans were immediately outraged, gathering around the #WhereIsLeia hashtag on social media to complain that one of the very few female figures currently available in the Star Wars line had suddenly been cancelled:
G/O Media may get a commission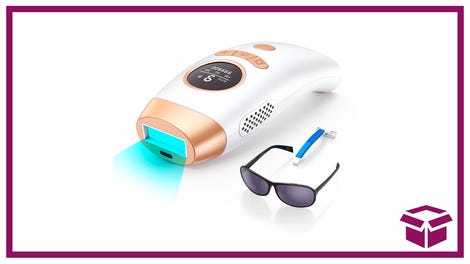 58% Off + Coupon
IPL Hair Removal Device
Was Hasbro really so shortsighted to cancel a Princess Leia figure after coming under fire for their lack of female Star Wars toys? It turns out, no, thankfully. The figure was removed from preorders due to a manufacturing issue with her dress, pushing the figure back to a later date. here's Habsro's statement, given to the Daily Dot:
The STAR WARS Black Series 3.75-inch Princess Leia (Yavin Ceremony) has been delayed due to a production issue with Princess Leia's robe. However, we are currently working through this issue and you will be able to find her on shelves later this year. Also, we can confirm that the STAR WARS Black Series Princess Leia (Boushh Disguise) 3.75-inch and 6-inch items will be available later this summer.

In addition, you can find a STAR WARS Saga Legends Princess Leia (Endor) 3.75-inch as well as a STAR WARS Mission Series Princess Leia (A New Hope) 3.75-inch on shelves later this spring.
So alls well that ends well, even if it means people will have to wait a while to get their Princess Leia toy. But even though it wasn't a big mistake made by Hasbro, they didn't exactly handle it in the best manner — suddenly yanking the toy without a reason given, and only explaining it (with a completely reasonable response) after people got angry and assumed the worst. None of this would've happened if they'd just announced the figure's delay and then pulled it.
The fact that people now assume the worst when it comes to Hasbro's female figures just compounds on their ongoing issues with Star Wars toys too. Hasbro's reputation has gotten to the point that when something like this happens, people expect it to be more of their shortsighted shenanigans, rather than an honest complication. That's not a great thing, especially as Star Wars toys are on the cusp of exploding once more thanks to The Force Awakens coming out later this year.
But hey, maybe if they had more female figures out there in the first place fans wouldn't freak out the moment one of the handful Hasbro have planned is delayed.
[via The Mary Sue]
---
You're reading Toybox, io9's blog for all things pop culture. From merchandise to awesome fan creations, TV recaps and critical commentary on the hot topics of the day, you can find it all here!