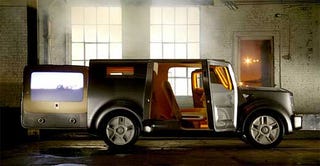 How's this for some ominous copy: "As the population shifts back to the big cities, you'll need a rolling urban command center." Yes, after the fallout we need to reclaim our metropolises from the mutant hobo zombie hordes, and Ford has got our backs. Their SYNUS (quite possibly the worst vehicle name ever) is a concept vehicle that has a home theater setup inside and all sorts of protective measures on the outside.
Inside, you get adjustable seating to point you towards the 45-inch Sharp LCD flat panel and DVD player. Outside… well, I can't put it any clearer than their description:
When parked and placed in secure mode, SYNUS deploys protective shutters over the windshield and side glass. Small windows on the flanks and roof are non-opening and bullet-resistant. The SYNUS concept also signals security through its use of a driver-side dial operated combination lock on the B-pillar.
Yikes. It all sounds so… necessary. Sure, it's a bit old, but their intent seems just as relevantly creepy now as it was when they announced it. Check another dark and scary pic after the jump.
More on Ford's Synus Concept: Transportation for Urban Fraidy Cats [Jalopnik]
Product Page [via Born Rich]