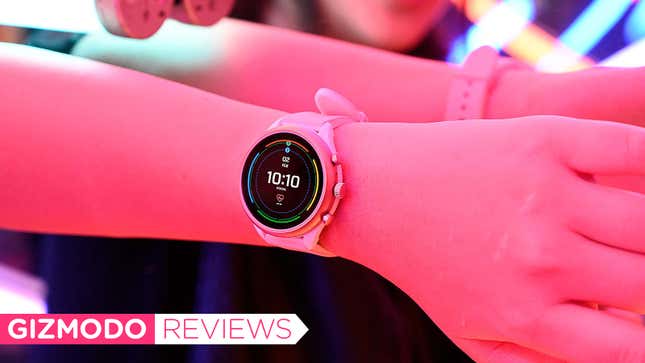 The hunt for a truly great and iconic Wear OS smartwatch is still on—but in the meantime, you could do a hell of a lot worse than the Fossil Sport. Thanks to the newer Snapdragon 3100 processor, the Sport finally has most of the features you expect a 2018 smartwatch to have. Namely, heart rate monitoring, standalone GPS, a better fitness interface, and (slightly) longer battery life.
Rob Savage on Collaborating with YellowJackets' Sophie Thatcher
It's true. Plenty of other smartwatches introduced these features ages ago. But that's not the point. The point is you can get a decent smartwatch on Google's Wear OS, the long-neglected bastard stepchild of wearable operating systems. And at a relatively affordable $255.
As I wrote in my hands-on, creating a competent smartwatch might seem like a low bar for Fossil to clear. But up until now, Wear OS was heavily reliant on the outdated Snapdragon 2100 chip. It made for a sluggish wearable experience defined by a clunky UI, patchy heart rate monitoring, and often, a bulky design to accommodate a massive battery that didn't last longer than 12-hours anyway. That's not the case with the Sport.
Push notifications are timely, there's minimal lag when swiping between screens, and a lot of Google's revamped Wear OS interface finally works the way it's intended. The Google Assistant screen isn't quite as helpful as the Siri watch face on the Series 4, but it's effective. It's also easier to view your wellness stats thanks to the redesigned Google Fit screen. It cribs a bit from Apple's Activity rings, but being able to easily view your movement and heart points at a glance is leaps and bounds better than the previous iteration.
Design-wise, the Sport is the opposite of chunky. It comes in 41mm and 43mm, and the only noticeable difference is the bezel on the 43mm watch is slightly larger. It's comfortable enough to wear all day, and it's small enough not to catch on your jacket sleeve. Aesthetically, the Sport has a casually chic yet athletic vibe. Like, "I wear athleisure to the grocery store but sometimes you can catch me power walking for 15 minutes around the park." You can get it in blush, black, gray, light blue, red, and neon for the aluminum top-ring, and there are 28 different straps if you want to mix and match.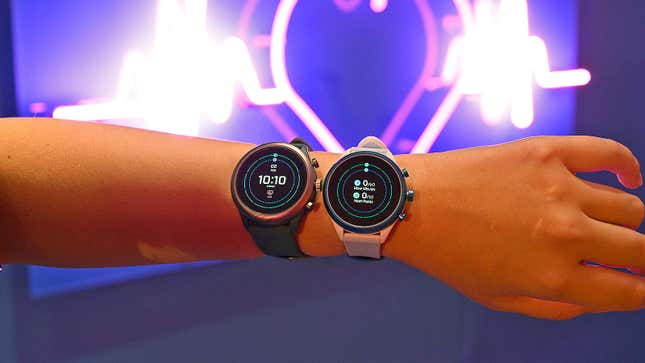 I only have two quibbles about the Sport's design. First is the nylon case all the guts of the watch reside in. I get that it's lightweight, but it feels and looks chintzy the longer I stare at it. Sort of like the aluminum top ring was just pasted onto a plastic backing. Second is the ball-and-pin mechanism to swap straps. It's extremely annoying and after trying it once, I never want to try it again. That defeats the purpose of having so many color options in the first place.

The rest of the Fossil Sport is fairly ordinary. The top and bottom buttons on the right side act as customizable shortcuts, and the dial lets you go back between menus or scroll through notifications. If you press and hold, you can also bring up Google Assistant. As for internal guts, you get the typical accelerometer, altimeter, ambient light sensor, gyroscope, and microphone. More impressive is the optical heart rate sensor, NFC payments via Google Pay, and built-in GPS. These are pretty new additions to Fossil smartwatches, and it's encouraging to see more functionality from the usually design-first watchmaker.
One area where the Sport underdelivers is battery life. While the Snapdragon 3100 has improved it to about 24 hours, this is still a watch you'll have to charge nightly. Granted you have the same issue with the 18-hour battery life on the Apple Watch Series 4, though it technically does more in terms of heart rate monitoring and standalone LTE. Over about six days of use, I averaged around 20 hours before needing a charge on days when I didn't work out.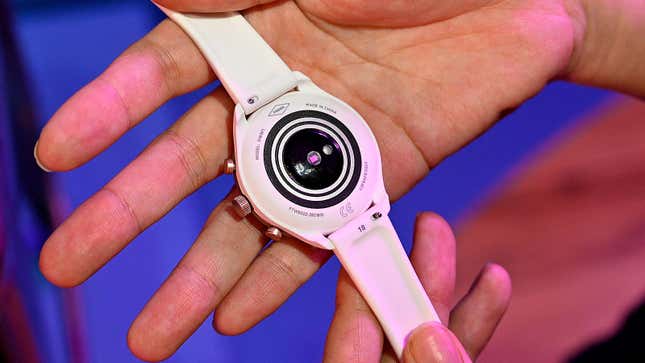 A small consolation is the rapid charging. Fossil claimed you can charge from zero to 80-percent in about 50 minutes, and that proved true in testing. Out of the box, I went from 50 to 100-percent in about a half hour, and on subsequent charges, I didn't need much more than an hour. Most wearables need around two hours to fully charge, so this is kinda handy if you wanna get the odd 30-minute charge session when you're just sitting at your desk. Still, it'd be better if you could at least go a full two days without worrying.
This also raises questions about the Sport's fitness and wellness prowess, because if you're trying to be fit you want a watch that will last the whole workout, and if you're trying to monitor your sleep you need it to last the entire night. What you end up getting is a mixed bag where the Sport is technically functional, but still playing catch-up with other smartwatches.
A good example: it's nice the Sport has standalone GPS, but it zapped my battery after just a 30-minute bike ride around Brooklyn's Prospect Park. I started at 40-percent, and by the end was left with just 15-percent, which meant I had to charge as soon as I put my bike away. That also means having to charge it before bed for sleep tracking. Also, because Google Fit doesn't track sleep natively, it means downloading a third-party app—an extra step I can skip on other devices.
Likewise, the Sport's activity tracking is competent but constrained. You only get continuous heart rate monitoring while exercising. The rest of the time it spot checks every 20 minutes or so. You also don't get automatic activity logging as you do with the Series 4, Fitbit, and Samsung Galaxy Watch. And even though it's swim-proof up to 5 atmospheres (ATM) or 165 feet underwater, there's no swimming activity in the Google Fit Workout app. (It does, however, include more random activities like flossing, stroller walking, and ergometer rowing.) Overall, tracking activity with the revamped Google Fit is definitely better than it used to be, but if you actually care about your data, apps like Strava or MapMyRun are more up to the task.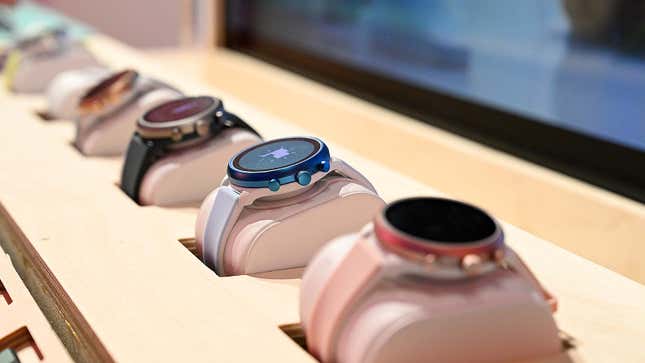 That said, the Sport is pretty accurate. On a 4.15-mile bike ride, it measured close 4.21 miles. I wore an Apple Watch Series 4 simultaneously and got 4.23 miles. During the exercise, it matched the Series 4 for average heart rate at 135 beats per minute and was generally within 10 bpm of my Polar H10 chest strap. That's pretty good, even if it cost me 25 percent of my battery life. As for overall step counting, it matched the Fitbit Versa in two all-day counts, differing by a negligible 100 to 200 steps.
But even with all these improvements, Wear OS still isn't great. It has more apps and watch faces overall than Samsung's Tizen OS, but installing them is tedious. This is mostly because I've found Wear OS has a greater tendency to drop wifi signal and disconnect from my phone. That might be because I'm an iPhone user, but I've never really had that issue with the Samsung Gear Sport or Galaxy Watch. As for nonstandard preinstalled apps, the Sport comes with Spotify (which was mysteriously missing from my watch), Noonlight (a personal safety app), and Fossil's barebones watch face app. Not terribly exciting.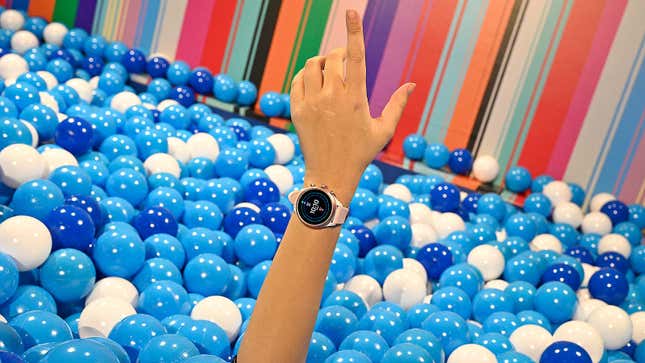 The clincher for the Sport is price. At $255, it's a good $145-$245 cheaper than the Apple Watch, depending on whether you get LTE. It's also about $74-$95 less than the Samsung Galaxy Watch. The only real competitor is maybe the Fitbit Versa, which costs about $50 less, but trades off better fitness tracking with scantier app offerings and no built-in GPS. Plus, Fitbit's Versa and Ionic still have more fitness than smartwatch in their DNA. The Fossil Sport delivers a better smartwatch experience and is a good budget option with decent activity tracking. Its overall competence also makes it the best Wear OS watch you can buy. For now.

The Fossil Sport's reign as King of Wear OS is likely to be short-lived. At the moment, it benefits from being a big fish in a small pond. The only other Snapdragon 3100 watch available is the Montblanc Summit 2, and at $995 it isn't realistic for most people. It'll be interesting to see how the Sport holds up once the influx of newer Snapdragon 3100-powered watches arrive. But until then, the Sport is about as good as it gets for Wear OS.
README
Zippy Snapdragon 3100 chip makes for a much better Wear OS experience.
Battery life is still a let down at around 24 hours. Less if you use the standalone GPS, but the rapid charging is nifty.
Accurate tracking, but even with the revamped interface, Google Fit isn't the best fitness app.
Has heart rate monitoring, NFC payments, built-in GPS. All three are functional improvements from Fossil's usual fashion-first fare.