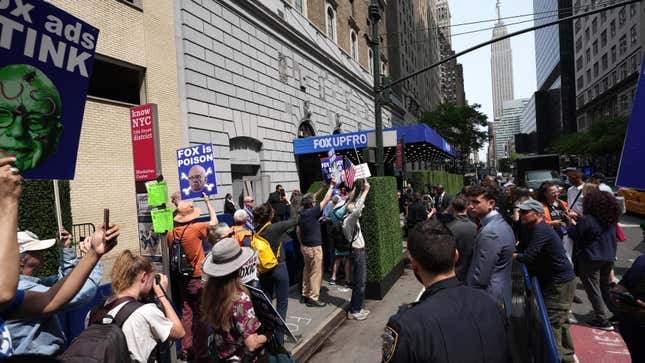 Fox News wants advertisers, and it apparently doesn't want any pesky brightly lit billboard trucks spoiling its courting dance. The anti-Trump super PAC The Lincoln Project has been one of several groups using the notoriously glaring mobile ad trucks to get its Fox-critical message across. In the PAC's latest attempts to rag on the News Corp-owned network, Fox News reportedly has upped the ante and hired its own, much bigger billboard trucks to spread its own message.

The Lincoln Project had employed a large, bright billboard truck to go after Fox and disincentivize advertiser buy-in during the network's annual Upfront conference hosted earlier this week. The event is supposed to let Fox peacock around to court companies to advertise on the network. Images and video show the PAC parked its truck on the other side of the street near the Manhattan Center where Fox was holding its Upfront event.
On Monday afternoon, the Lincoln Project claimed in a tweet that Fox "forced our billboard truck in front of their building to move. They called the cops there and ticketed our truck. It's a clear violation of our First Amendment rights." The photo included by the PAC showed the truck inside the striped shoulder on the inside of the red bus lane. Other photos from Monday show there were a multitude of protest trucks parked on the same side of the street.
A Lincoln Project spokesperson said in an email statement that the truck was parked in line for hours until 1:45 p.m. ET, when a cop on the scene "tried to write a ticket." When a project staffer asked the officer why, they were told a "Fox executive called several times asking for the truck to be removed." The truck then circled around and parked again, though in a different spot. Gizmodo reached Fox News for comment and confirmation, but we did not hear back from either.
Though Fox did not confirm it had called police Monday, the network instead shared several images with Mediaite showcasing its own billboard trucks parked in the same spot outside the Manhattan Center. The trucks promoted that Fox "Beats CNN and MSBNC" among other messages about overall network viewership. To add insult to injury, Fox's billboard trucks were much longer and even more glaring than the super PAC's were.
In a Tuesday tweet, the Lincoln Project stated "[Fox News] openly promotes hatred and violence, but they can't handle a sign in their front yard. Don't worry, holding big liars accountable is our favorite pastime and we're not going anywhere."
The PAC wasn't the only anti-Fox group out on Monday with a billboard truck. Activists from advocacy group MoveOn also brought a truck outside the Empire State Building while protesters stood outside holding signs reading "Fox is Poison" and "Advertisers We are watching you." Pictures of the protests also show there were a multitude of billboard trucks stationed on the other side of the street from the Empire Center Monday morning. Gizmodo reached out to MoveOn asking if its trucks were also asked to leave, but we did not immediately hear back.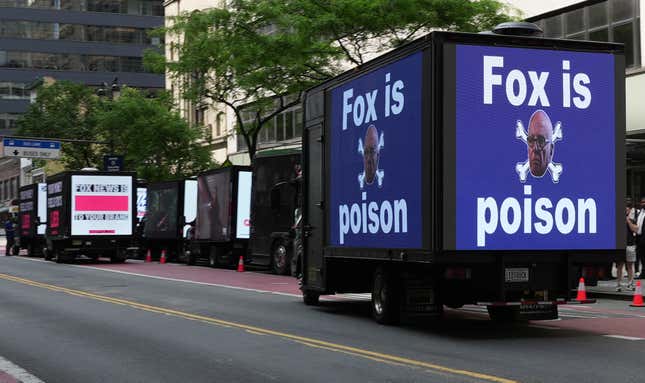 Fox has been extra concerned about its image since Fox News host Tucker Carlson's ouster, even going after Media Matters for releasing behind-the-scenes videos of the ex-show host's antics.
Fox had this Upfront on the docket since at least February, months before its lawsuit with Dominion Voting Systems came to a head. That suit revealed emails and texts from execs and hosts like Carlson that implied they were focused more on ratings than how verified its 2020 election reporting was. Carlson got booted from the network back in April, and there are still lingering questions as to why the host of one of Fox's most-viewed shows was axed so suddenly.
The Lincoln Project has had its own fair bit of controversy. Back in 2021, the super PAC's execs were embroiled in a major scandal with allegations longtime GOP operative and project co-founder John Weaver sexually harassed more than 20 young men online.
Update 05/16/23 at 4:15 p.m. ET: This post was updated to correct the caption of the billboard trucks photo. The photo originally stated the truck was from MoveOn.