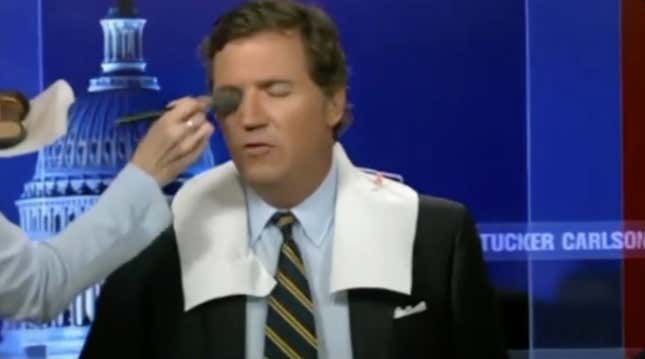 Fox Corp., the parent company of Fox News, would very much appreciate it if Media Matters for America would stop monitoring media. The Rupert Murdoch-owned network sent Media Matters a cease and desist letter on Friday, demanding that the non-profit watchdog take down leaked, behind-the-scenes footage of Tucker Carlson being an off-putting creep and criticizing his employer.
Twitter Is Shifting Right | Future Tech
The Carlson videos, released under the headlines "FOXLEAKS...," show the far-right former Fox pundit making off-the-cuff remarks about sexual technique, making lewd insinuations at a makeup artist, griping about court proceedings, and lambasting Fox's online streaming platform, Fox Nation. The videos add to the pile of potential reasons that Fox may have opted to fire Carlson last week, in the aftermath of the company's ginormous settlement with Dominion Voting Systems.
In the cease and desist letter, posted to Twitter by journalist Max Tani, Fox Corp. is adamant that the previously un-released footage is its own "confidential intellectual property" and that MMFA "unlawfully obtained" the videos. "This proprietary material was given to you without FOX's authorization. Fox demands that Media Matters cease and desist from distribution, publication, and misuse of Fox's misappropriated proprietary footage," says the note. The letter is singed by an attorney at the law firm Wilson Sonsini Goodrich & Rosati, which represents Fox.
MMFA's response to the cease and desist doesn't suggest the non-profit is interested in complying. "Reporting on newsworthy leaked material is a cornerstone of journalism. For Fox to argue otherwise is absurd and further dispels any pretense that they're a news operation," wrote Angelo Carusone, MMFA president, in a statement emailed to Gizmodo. "Perhaps if I tell them that the footage came from a combination of WikiLeaks and Hunter Biden's laptop, it will alleviate their concerns," Carusone added.
So far, Media Mattershas published four videos of Carlson speaking off-air. In the most recent, the M&M's superfan is shown asking a makeup artist applying powder to his face if "pillow fights ever break out" in the women's bathroom. When she says no, he responds "OK...That'd be more a dorm activity."
In another set of videos he tells Piers Morgan, "if we're going to talk about sex, I'd love to hit some of the fine points of technique." In yet another, he describes and unknown person's girlfriend as "kind of yummy," in a shudder-inducing voice. A video from Tucker Carlson Today captures him saying he can't assess his own appearance and simultaneously disparaging and sexualizing his audience, adding "I wait for my postmenopausal fans to weigh in on that."
Media Matters also released a clip of the pundit bemoaning his participation in the Dominion trial, calling the election tech company's lawyer a "slimy little motherfucker," and saying the Dominion deposition "triggered the shit" of him.
Together, all of the videos paint an unsettling and creepy portrait of an agro, misogynistic weirdo. But honestly, none of the quips come as a surprise. Carlson hasn't exactly hidden his views on women (or racial minorities, or the LGBTQ community, etc...), and he has said many more damning things on-air over the course of his career. It's hard to imagine all this rather run-of-the mill cringe got him ousted.
Yet additional footage shows Carlson critiquing Fox News management and the company's Fox Nation streaming platform. Clearly, he had some issues with his bosses that he didn't mind voicing in the workplace, and maybe that has something to do with why he's not there anymore.
"Nobody watches Fox Nation because the site sucks," he says in the two minute video before entering into a full on tirade against the digital service:
It's hard to use that site. I don't know why they're not fixing it. It's driving me insane. And they're like making, like, Lifetime movies. But they don't, they don't work on the infrastructure of the site. Like what? It's crazy. And it drives me crazy because it's like we're doing all this extra work and no one can find it. It's unbelievable, actually.

...

We're like working like animals to produce all this content, and the people in charge of it, whoever that guy's, whatever his name is, like, they're ignoring the fact that the site doesn't work. And I think it's like a betrayal of our efforts. That's how I feel. So I, of course, I resent it.
The cease and desist and related videos are just the latest bit of drama in the string of recent events concerning Fox and Carlson. The ultra-conservative commentator abruptly left Fox News at the end of April. Since 2016, he had hosted the talk show Tucker Carlson Tonight along with multiple other web-based series for Fox. Prior to that, he was a Fox contributor. His sudden departure (and likely firing) from the network, came just a few days after Fox Corp. was forced to settle a defamation lawsuit brought by Dominion Voting Systems in a massive $787.5 million payout agreement.
Many have speculated about the specifics of Carlson's Fox exit since he left, considering he was one of the network's biggest cash cows. Tucker Carlson Tonight was routinely one of the highest rated, most-watched cable news programs in the U.S. Yet Carlson's likely role in the Dominion settlement seems to have played a big part in the network and Carlson parting ways.
Dominion supplied voting machines to dozens of states ahead of the 2020 election. The company's legal complaint against Fox revolved around unfounded voting fraud conspiracies—which the voting tech purveyor said Fox willfully perpetuated, despite knowing they were false.
During the legal discovery process, Dominion filed documents to back up its case, cataloging emails and texts from Fox News hosts that appeared to categorically demonstrate Fox figureheads didn't buy the shit they were selling. Carlson's internal communications surround the "Stop the Steal" election fraud conspiracies were uniquely and aggressively damning.
"Those fuckers are destroying our credibility," he wrote of prominent election deniers and Fox executives' push to platform them. "Sidney Powell is lying. Fucking bitch," he said in another communication. He described the network's coverage as "shockingly reckless," and stated the he was well aware there was no proof of election mishandling at Dominion. The list goes on.
Now, the MMFA videos offer an additional bit of clarity on Carlson's antics on set and perhaps Fox's overall reasoning for kicking him to the curb. Too bad for Fox, regardless of the "why" behind its decision, that doesn't change the outcome for the network. Since Carlson has been off the air, Fox News's viewership and ratings have plummeted.
Update 5/5/2023, 5:15 P.M. ET: This article has been updated with a statement from Media Matters for America president, Angelo Carusone.