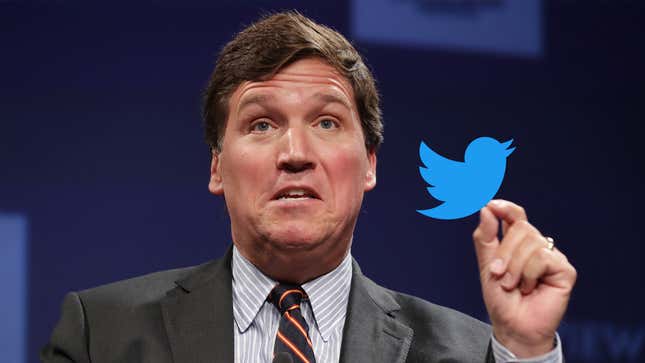 Tucker Carlson made a dazzling announcement on Tuesday: the recently-fired Fox News star will host his next show on Twitter. Carlson's new broadcasts, which could cost him the $25 million Fox still owes him, will bring Twitter more attention, but they may spell bad news for the company's bottom line.
Twitter Is Shifting Right | Future Tech
If Carlson and Elon Musk follow through on their plans for a show and a revenue-sharing product, respectively, money spent on Twitter ads could go directly into the TV anchor's pockets. Given Carlson's noxious reputation, that's likely to drive brands even further away from an already struggling Twitter.
"Starting soon we'll be bringing a new version of the show we've been doing for six and a half years to Twitter," Carlson said in his video Tuesday. "Twitter has long served as the place where our national conversation incubates and develops. Twitter is not a partisan site. Everybody is allowed here. And we think that's a good thing."

Musk and Carlson have a similar problem. They are two of the most famous men in America, but big advertisers fear their erratic behavior. Both men's businesses are totally dependent on ad dollars, at least for now. With Carlson's new show, it's possible these right-wing darlings have poked holes in the same sinking ship.
After the video posted, Musk seemed to acknowledge the potential issue. The CEO tweeted that his company hasn't "signed a deal of any kind" with Carlson, though he himself has appeared on Tucker Carlson Tonight multiple times. Musk said Twitter will fact-check "anything misleading" posted on the platform, and said he hoped leftist creators will follow Carlson's lead. Musk did nod to his plans to compensate Twitter's new VIP, however, and therein lies the problem.
"Tucker is subject to the same rules [and] rewards of all content creators," Musk said. "Rewards means subscriptions and advertising revenue share (coming soon), which is a function of how many people subscribe and the advertising views associated with the content."
Musk has spent the last few months months touting a plan to share ad money with creators, so far with nothing to show for it. According to Musk, the idea is people who participate in Twitter's new subscription program will get a cut of the money for any ads that display in the comments of their posts. At some point.
In other words, if you buy an ad on Twitter, the money could go directly into Carlson's pocket. Potentially a lot of money, if Carlson attracts a lot of viewers. At the very least, any advertiser on Twitter is keeping the lights on at Tucker's new home. Recent history shows that's an association that big brands don't want.
"When it comes to brand safety, yes, if you are advertising on Twitter at this point, you are funding Tucker Carlson," said Nandini Jammi, co-founder of Check My Ads, a non-profit ad tech watchdog that documents how online ads fuel the misinformation economy.
Taking his wares to Twitter is a big step down for Carlson and could be a major financial loss due to his own breach of contract. Reports suggest the new show will cost the former host $25 million due to a non-compete agreement with Fox. It's likely that he hopes to build up his own audience to monetize directly, though tying yourself to a man as chaotic as Musk is a dangerous game. At the end of the video announcing the plan, Carlson directs viewers to his website, where you're encouraged to provide your email. If nothing else, Carlson may sell some swag, which includes golf balls, socks, and a $165 shoulder bag adorned with his name.
There were other options, some which seemed far more obvious. Newsmax—an aging but agile cable news network that's even farther to the right than Fox—has said it would gladly offer Carlson a new home. It's possible the Twitter plan came out of a recent glad-handing interview Tucker held with Musk on his now-dead Fox program, which saw Carlson fawning over the billionaire's patently absurd ideas.
"Carlson is still enormously popular, and his loyal fans may be willing to pay for access to a subscription-only broadcast," said Jasmine Enberg, principal social media analyst at Insider Intelligence. "That could boost Twitter's non-ad revenues, but I'm not fully convinced that enough people will sign up to watch a show they used to access for free, on a platform they are accustomed to accessing for free, for it to make a significant impact on Twitter's bottom line."
Twitter's subscription offering, which lets users set up a paid tier for exclusive content, is part of a series of efforts to diversify the company's revenue. The most famous endeavor is Musk's change to Twitter's verification system, which no longer verifies people's identities and is now available to any user for $8 a month. It's been an unmitigated disaster. On the day Twitter removed the blue check marks from the estimated 407,000 accounts with legacy verification status, reports said just twenty eight new users signed up for the paid Twitter Blue.

"Carlson could exacerbate Twitter's advertising problems, and many brands will continue to steer clear due to both brand safety concerns about the content as well as the overall risk of being associated with him," said Enberg. "Twitter is still a platform that thrives on news and controversy, and Carlson provides plenty of the latter. That could boost engagement for Twitter, but the quality of that engagement isn't likely to be the kind that will attract advertisers, either."
In the climate Musk and Tucker built for themselves, tying your ad money to their projects could generate public condemnation. Representatives from the advocacy groups Free Press, Media Matters, Accountable Tech, and the Center For Countering Digital Hate all told Gizmodo that Carlson's new show will be even worse for the reputation of any brand that chooses to advertise on Twitter.

"This puts Twitter in direct conflict with the core values of thousands of household brands," said Imran Ahmed, CEO of the Center for Countering Digital Hate. "Many have already decided to leave the platform. The ones who remain must decide whether they want to continue to prop up Musk's project, or stand up for their beliefs in tolerance, inclusivity and enlightenment."
Both Carlson and Twitter are suffering from longstanding advertising droughts thanks to their respective controversies. Jammi said the partnership could make exacerbate the problem. "When an advertiser leaves, new advertisers don't come in and replace them, because the ad space is now known as a slot for toxic content," she said.
When Musk bought Twitter, it started a mass exodus of the platform's biggest advertisers, worried about their reputations amidst skyrocketing hate speech and other unpleasant content. That's a crisis for a social media platform, though Musk swears things are fine.
Over the past few years, Carlson has had the same issue, with advertisers boycotting his show in spite of sky-high ratings. Fox unexpectedly fired Carlson two weeks ago, and it didn't offer any satisfying official explanation for cutting ties with its biggest star. That may be because the truth is something Fox doesn't want to admit: some observers say Tucker Carlson Tonight was losing money. By the time of its demise, the show didn't have a single blue chip advertiser.
Big brands have been fleeing Carlson since at least 2019, sometimes in organized boycotts over his penchant for controversy, bigotry, and blatant misinformation. That was already a problem before Fox's $787 million settlement with Dominion Voting Systems, announced just before Carlson's firing. Carlson himself was muted on the subject of Dominion conspiracy theories in comparison to his fellow hosts, but private texts emerged in discovery that showed him deriding a female colleague as a "c**t." Making matters worse, one of Carlson's former senior producers filed a lawsuit accusing him of bullying and sexual harassment, a type of suit Fox is all too familiar with.
Carlson could not immediately be reached for comment. Musk reportedly fired Twitter's communication department, and set its press email to auto-reply with a poop emoji. The company did not otherwise respond to a request for comment.

On Tuesday, Carlson's attorneys sent a letter to Fox accusing the network of "fraud" and "breach of contract." The letter alleges that network executives—including Rupert Murdoch—broke "material" promises to Carlson, an act the letter defines as fraud. Those promises include ones not to leak Carlson's private communications and to not settle its recent Dominion Voting Systems lawsuit in a way that would denigrate Carlson's reputation, Axios reports.
Reports suggest more than half of Twitter Blue early adopters have since canceled their subscriptions. Twitter's blue check mark was a sign you were important, at least by the company's standards. A savvy marketer could easily convince people to pay for something like that. Instead, Elon Musk, a man hailed for decades as a business maverick, turned a status symbol into a mark of Cain.

Advertisers can move mountains in a business that is entirely dependent on them. In 2020, more than 1,000 companies joined in a major boycott of Facebook (the company now known as Meta) over the company's handling of hate speech and misinformation. The business didn't suffer in any meaningful way, but the boycott dealt a painful blow to the platform's reputation. Meta has never acknowledged it, but the boycott may be partially responsible for the company's subsequent moves to take these problems more seriously.

On the other hand, Musk hasn't responded to similar pressure, and Twitter suffers because of it. Advertisers don't need a boycott to stay away from Twitter, but there are calls for one anyway. When Musk spoke at a recent Miami advertising conference, a coalition of advocacy organizations hired a plane to fly banners over the city reading "Musk is bad for business #StopToxicTwitter."