How do you upgrade a camera that everyone already loves when you don't really have much new technology to stuff inside? With Fujifilm's x100t, the latest iteration of the classic-styled fixed-lens shooter, the answer is to buff out some minor flaws, add maybe a feature or two, and of course, a whole new letter: "t."
Without a new sensor, engine, lens, or body to show off, the x100t is largely the same 16 megapixel APS-C sensor camera, with its wonderful 23mm f/2 prime lens found in the x100 and x100s. If you were hoping for some sort of evolution in performance or image quality, this is not the upgrade you are looking for. Instead, the x100t contains some subtle cosmetic re-tooling, a few control tweaks, and new addition to the hybrid optical/electronic viewfinder. Here's what's new:
The coolest feature is the Digital Rangefinder, which is better way to manually focus while using the x100t's optical viewfinder. Essentially this means that the split-image focus aid that was found on the x100s and other X-series' electronic viewfinders now appears as an overlay while looking through the optical viewfinder. This makes the camera feel more like a traditional rangefinder in manual focus mode.
G/O Media may get a commission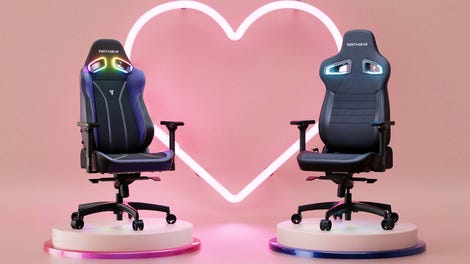 Up to $150 off
Vertagear Gaming Chairs
There are other minor improvements to the viewfinder experience in the x100t, such as real-time parallax correction and 92% frame coverage, up from 90% on the x100. The 3" LCD display also has more resolution with 1.04 million dots, up from 460 thousand. Whoopee. Turning the camera over, the X100t features a re-tooled rear control scheme. The little command lever at the top of the rear panel is now a dial. The larger rear control wheel is gone in place of a 4-way directional pad. The buttons are re-shaped and spread out a bit as well. As with most control schemes, some will love the changes and some will miss the old style. Some improvements that should be welcome by all are the expanded exposure compensation dial which now goes up to ±3 EV (up from ±2 EV), and an aperture ring that now moves in 1/3 stop increments as opposed to full-stop increments.
So it looks like Fujifilm doesn't actually have any amazing new tech to show off this year. They have been coasting by on their wonderful X-Trans II sensor for a couple of years now, and as much as we love their cameras' high quality and seductive design, it will be a joyous occasion to actually see a new Fujifilm camera that is more than just a new letter and a handful of minor new features.
The x100t will come in black and silver as before, and will come in at $1300 in mid-November.
Speaking of color-schemes, Fujifilm's much-heralded X-T1 mirrorless camera is getting the silver treatment with a newly styled version called Graphite Silver. Minor upgrades include a new electronic shutter with a max speed of 1/3200, and a Natural Live View mode that is supposed to mimic the look of an optical viewfinder when looking through the EVF. It will be priced at the same $1500 as the black version and will be available in late November.
Last on Fujifilm's docket is a new 50-140mm f/2.8 optically stabilized lens. This bad-boy provides what should be a super high quality option for those looking to shoot telephoto. With this range and a constant aperture, Fujifilm's X-mount lens line is becoming one of the most complete and appealing systems on the market. The 50-140mm f/2.8 will run for a cool $1600 and should drop in December.