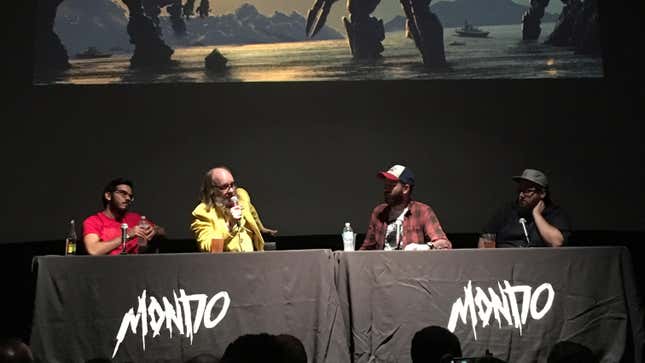 It's a sad day for fans of pop culture collectibles as Funko has let go of almost half of the 40 or so employees working for Mondo, the Austin, Texas-based collectible company famous for its alternative movie posters, collectible toys, vinyl music releases, and more.
Spoilers of the Week | June 10th
Originally part of the Alamo Drafthouse, Mondo was purchased by Funko in June 2022; at the time, its CEO Andrew Permaulter told io9 "Our goal is to build the Mondo brand. Our goal is not to turn Mondo into Funko." It's unclear what the goal is now, since among the people who've been let go are Mondo co-founders Mitch Putnam and Rob Jones, as well as senior creative director Eric Garza. Together, they were primarily responsible for the company's poster output, which is expected to continue, just under different leadership. Mondo's toy and record divisions remain intact. io9 reached out to Funko for comment and after publication, a spokesperson confirmed the layoffs and planned continuation of the poster business.
Since Mondo's inception in 2004, Putnam and Jones were paramount in recruiting up-and-coming artists and guiding them to create work that made them, and the brand, increasingly popular. Garza joined them several years later, helping solidify a core creative team that set Mondo apart from most of the other pop culture poster companies while building a fierce loyalty with its artists. Over the years, the company's cache grew exponentially, highlighted by its infamously quick poster sellouts; for a time, the company had its own gallery in Austin and even its own convention, MondoCon. For that event, fans from all over the world would come to buy posters, art, and collectibles, and enjoy the culture Mondo's care for its work fostered. But that era is now over. With the exit of Putnam, Jones, and Garza, it raises the question of if those artists, or their consumers, will continue to come back to Mondo.
"Do they not understand they just lost their entire artist base?" said artist Daniel Danger, who has worked with Mondo since 2006. Danger believes the move will discourage most artists from working with the brand. "I want to work with Rob, Mitch, and Eric," he said. "They're Mondo. If they're not there, it's just Funko." As recently as last week, Danger was talking to the team about future Mondo projects ranging from San Diego Comic-Con to a potential screening event next year. So, to him, the move came seemingly out of nowhere. He now views those projects, which included some very well-known properties, as "dead in the water."
Other artists echoed those sentiments, and expressed worry over the status of projects that have yet to be released, as well as hesitation about working with the company in the future. "To me, the heart of Mondo's artistic vision laid with the staff that was let go, and I'm nervous about ongoing and future planned projects continuing with the same enthusiasm and support," said one artist who chose to remain anonymous. "I'd love to continue working with Mondo but if they become a pale imitation of what they were, I'm sure many of us artists in the scene will migrate to wherever creative staff transitions to in the future."
According to several sources, since the purchase, Mondo's employees were conducting business as usual and planning projects for the future. But when Funko reported losses in its last quarterly earnings, 10% of the company was let go, some of which was from Mondo. And while the company's successful toy and record lines will continue for now, for fans of alternative movie posters, the Mondo of old is no more.
Update: 3/24/2023, 4:45 p.m.: We updated the post with Funko's response and made the small correction provided by the company that "some" not "much" of Funko's layoffs were from Mondo, as previously stated.
---
Want more io9 news? Check out when to expect the latest Marvel, Star Wars, and Star Trek releases, what's next for the DC Universe on film and TV, and everything you need to know about the future of Doctor Who.