Some geeky kids know the product number of the action figure needed to complete their collection. And some kids teeter on the brink of geekdom. Bring smiles to both groups with these games, toys and books.
Toddlers
Here Comes Science – They Might Be Giants
This DVD/CD set covers scientific topics like photosynthesis, elements, states of matter and planets. In the scifi realm it's got "The Ballad of Davy Crocket in Space." Best of all? The two songs, "Why Does the Sun Shine?" and "Why Does the Sun Really Shine?" introduce the concept that adults sometimes don't explain things correctly the first time around.

Periodic Table Placemat
I had one of these under the cat's dish for a long time. The cat never learned chemistry, but that doesn't mean your toddler won't. Use it as a visual aid during They Might Be Giant's element song (or if you're a purist, Tom Lehrer's "Elements") to turn your two-year-old's dinner time into pre-chemistry.

G/O Media may get a commission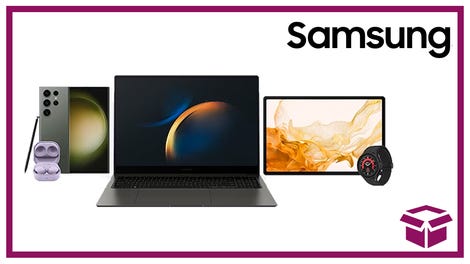 24 hour deals
Discover Samsung - Daily Deal
Alphabet Blocks
Mad Scientist alphabet blocks. Mwah-ha-ha! (io9 takes no responsibility for your child growing up to be an evil overlord.)

Plush Orc
Yeah, you can get your toddler the heroes of LoTR as cute cuddly plushies, but that kid is going to destroy the toy. So get the little one started on a life-time of orc-bashing, orc-dropping in the toilet, orc-smothering in jam, and orc-letting the dog chew on it.

Pre-school to Early Elementary
Our Neighbor Totoro (Studio Ghibli)
This is one of the greatest kids movies of all time. Sweet, sad, a touch of scary, and a lot of funny. Introduce your kid to a Japanese pastoral way of life, as well as a spectacularly strange and lovely creatures of Hayao Miyazaki's mind. Hopefully the beginning of a complete collection of Ghibli films.

Phineas and Ferb Bingo/Dominoes
If you (or your kid) haven't seen this Disney show, let me just say: platypus secret agent. Also, mad scientist, obsessive older sister and super inventive young kids who use impossible engineering to have fun every day of summer. While we're waiting for Disney to partner with classic building toys like Lego or K'Nex, bingo and dominoes are probably the right speed for the three-year-old set.

Techno Gears Marble Run
For the Phineas and Ferb fan who actually wants to get building, try Techno Gears marble run.

Science Kit
You can make your own, or bring stuff home from the lab. But if you want a boxed set for ages four and up, try Little Labs, available at Thames and Kosmos.

Bone by Jeff Smith
Scott McCloud taught us all that reading comics was a separate skill from reading. Comic literacy is a necessary part of geek heritage, but let's be honest, a lot of the comics written just for kids are just bad. But not Bone. Eventually this series gets dark, but the first few collections are all crazy adventures and cow races.

Fashion Kitty by Charise Harper
For the kid more interested in interpersonal relationships and the wardrobes of cats, there's the fun and charming Fashion Kitty books. My local comic book store stocks these; apparently they're like free samples from drug dealers. The kids can't get enough and they lead right to the hard stuff.

Elementary School
Hello World! Computer Programming for Kids and Other Beginners by Warren and Carter Sando
Your kid spends all his/her time playing video games. Whether it's educational software, Angry Birds or Picto Chatting on the DS. So get your kid started on basic programming! The book's blog has updates, links to videos and the authors answer questions.

Laser Tag
It's got lasers! It's got tag! And there are about a thousand options at varying price points. At the lower end, try Hasbro's Lazertag two pack. And don't forget the batteries.

Lego Creationary
This Lego game combines the fundamentals of Pictionary with the joy of Legos! And it's a blast for adults as well.

Fluxx
If your kid wants to be a game designer, or if they just like breaking rules, try the card game Fluxx. The rules and objectives can change completely with the flip of a card so players must remain flexible and pursue multiple simultaneous strategies. This one is a classic.

Dealing with Dragons by Patricia Wrede
Geeks know that the sometimes obnoxious child who is obsessed with being a princess can be turned into life-long cosplayer if handled right. Start off the novel-reading child with a dose of tough-as-nails Princess Cimorene as she and her dragon pals battle evil wizards.

Hero and the Crown by Robin McKinley.
Once your kid loves Dealing with Dragons, then you can move on to a slightly darker story. Here, Princess Aerin is a dragon slayer in the classic mode. And it won the 1985 Newberry Award, making it perfect for book reports.

Interworld by Neil Gaiman and Michael Reeves
Anyone who's looked into Gaiman's other kids books can tell you they're lyrical, well-written, elegiac and scary. Interworld is a shiny multi-dimensional adventure story. Oh sure it's got it's mature moments about the meaning of sacrifice, but mostly it's all about how Joe and his multidimensional counterparts get to know each other and learn to be heroes. And because it feels like the first book in a series that doesn't exist, there's lots of room for your kid to imagine what happens next.