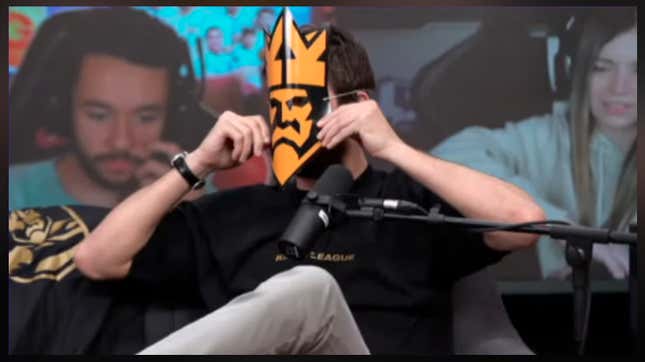 Come this Sunday, former FC Barcelona player Gerard Piqué will not only preside over a fireworks-filled final for the Kings League, his Twitch-focused indoor soccer conference, he'll also be on the lookout to see how many people are wearing masks. Because besides crowning the Kings League's first champion, Piqué wants to break a Guinness World Record.
Behind the Scenes at Gerard Piqué's Kings League Finals
In recent weeks, Piqué and the popular streamers that serve as team presidents in the Kings League have been working nonstop to fill FC Barcelona's famed Camp Nou soccer stadium, which will host the league final. The head of the Kings League is planning to give attendees costume paper masks shaped like a king, the tournament's logo, to try to set the new record for the most people wearing costume masks.
It's a whacky idea, but it isn't a surprise. Piqué has an affinity for stunts. After changing soccer's rules and adding "Secret Weapon" cards, mysterious masked players, and choosing to broadcast its games not on regular TV, but simultaneously on Twitch, YouTube, and TikTok, the Kings League wants to do things in its own signature style in its final phase, too.
The Guinness World Record for the most people simultaneously wearing costume masks is 30,050 
The current Guinness World Record for the most people wearing costume masks is 30,050. It was set in 2015 by a huge crowd wearing smiley face masks at the Philippine Arena Complex north of Manila. The Kings League will have the opportunity to break this record on Sunday. It plans to give out 90,000 masks with the tournament's logo and will be supervised by personnel from Guinness World Records.
It's still not clear whether the Kings League will manage to sell 90,000 tickets, but in the worst case, it'll get pretty close. As of Monday, more than 80,000 tickets to the final had already been sold, and there are estimated to be a few thousand left online. Oriol Querol, the CEO of the Kings League, said a set of tickets will also be sold at Camp Nou's ticket stands.
Piqué and the streamers involved in the Twitch league have been hard at work encouraging people to buy tickets for the final at Camp Nou, which can hold 95,877 people. Spain's professional soccer league hasn't filled FC Barcelona's stadium this season either, but it's come close two times. One occurred this past Sunday, when 95,745 people attended the game between Real Madrid and FC Barcelona. The other close call was on Nov. 5 during a game between FC Barcelona and UD Almería—Piqué's last game before he retired—which drew a crowd of 92,605.
In a way, selling out the stadium would be the Kings League's way of sticking it to mainstream Spanish soccer, whose president called Piqué's project a "circus" shortly after it debuted in January. On March 10, Piqué hung a huge banner on Barcelona's famed Avenida Diagonal street throwing shade at mainstream soccer.
"The thought of us filling up Camp Nou really scares them," the banner read.
The Kings League final schedule
Camp Nou will host the final four teams that remain after the Kings League's playoffs on Friday at its Cupra Arena stadium. "Ultimate Móstoles," the team of streamer DjMaRiiO is set to face off against "El Barrio," (or "The Neighborhood" in English) which is led by TikToker Adri Contreras. Meanwhile, "Saiyans FC," headed by TheGrefg, one of the Spanish-speaking world's top streamers, will play against "Kunisports," the team of Argentine striker Sergio "El Kun" Agüero.
The team led by Twitch megastar Ibai, "Porcinos FC" (or "Swine"), will play against streamer Juan Guarnizo's "Aniquiladores FC" ("Annihilators"). Finally, "Los Troncos FC" ("The Tree Trunks" or "The Dudes") from Perxitaa will duke it out against "xBuyer Team," the team of the xBuyer brothers.
On Saturday, players from the final four teams will stay at the Ciudad Deportiva Joan Gamper, which is where FC Barcelona trains, to try and get used to playing on natural grass (they currently play on artificial grass indoors). On Sunday, they'll face off at Camp Nou, which will host the semifinals and the final on the same day. Piqué and each team's streamer-president will arrive to the stadium in a helicopter. The event will also feature a rap battle and headliners Lali Espósito and Tiago PZK.
The winning team of the Kings League final will take home the trophy for the first split, or first half of the season, but there will be a second split premiering in just a few weeks. On April 3, the Kings League will open its own "transfer market" and give its team presidents €100 million (in fake money) to buy players from other teams.
At the final, there's no doubt the Kings League will try to break its own viewership record. It experienced its highest number of viewers on Feb. 26, the day retired Brazilian star Ronaldinho played for Ibai's Porcino's FC team, drawing in more than 2 million viewers. Given all the gimmicks Piqué and company are laying out, they have a pretty good chance.