Free pizza. Yummy. Along with free beer, life really doesn't get any better than free pizza. Which is precisely what Maximillian Hill, the winner of Gizmodo's MacBook Event Bingo, got last week: A large pizza with italian sausage and extra cheese. Maximillian sent us the bingo at exactly October 14, 10:30 AM east coast time:
BINGO! You can clearly see 3 balding guys in this photo. Look at the reflection off their heads! - 10:07 am ON Oct 14 2008 No FW 400 on the MBPs! - 10:30 am ON Oct 14 2008 Steve wears pants - 10:00 am ON Oct 14 2008 Made from block of aluminum (MB Air) - 10:17 am ON Oct 14 2008 (or 10:25 am ON Oct 14 2008 for the new one) NVIDIA in the new MBPs - 10:28 am ON Oct 14 2008
It has been a long time (for logistics problems and some confusion) but he finally got his order, and obviously he was very happy about it.
G/O Media may get a commission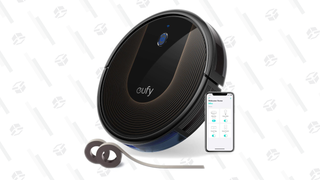 48% Off
Eufy BoostIQ RoboVac
Dear Gizmodo, Thanks for having Bingo for the Apple event on October 14th. I think it may have been the only game of Bingo I've ever played that was worth winning. Enclosed are photos of the wonderful pizza you sent me with the Macbook Pro I got directly following that Apple event. My laptop got hungry so I tried to feed it some pizza. Can anyone tell me the best way to clean tomato sauce out of a super drive? Anyway, thanks a bunch. -Maximillian
If you didn't win, don't worry, because there will be more of Giz bingo pizzas in the future. [Giz Bingo Pizza]