We got some hands on with the new, proximity-sensing, backlit Microsoft Keyboards. Jump for photos and impressions.
G/O Media may get a commission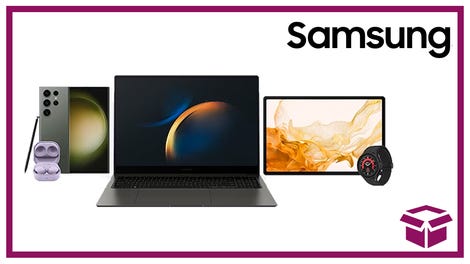 24 hour deals
Discover Samsung - Daily Deal
The Bluetooth keyboard itself is quite nice. With a gentle ergonomic curve, its scissor-keys give you a pleasant tactile feel that's not too sensitive, yet not too heavy. The usual bevy of multimedia buttons appear in the peripheral of the peripheral, and can be programmed to work with whichever media player the user prefers (not Windows Media Player 11 for us).
The backlit keys dim in reaction to the ambient light. In addition, Microsoft has built in a proximity-sensing function that turns the backlight off after you've removed your hands from the keyboard, and turns it back on as your hands approach. This uses a static electricity sensor not unlike those used in laptop touchpads. We had heard of the proximity feature, and were hoping it would do magic, such as setting our instant messengers to "Away" status for us when we went to get another beer, but its range is only about six inches, so that's impractical.
Besides sensors across the bottom of the unit, the keyboard sports what we'll call a "clickpad" in the upper right-hand corner. Much like an iPod's Clickwheel, it's a touchpad with reactive corners. This can be used to navigate the mouse around the screen. There are also a left-click and right-click buttons on the left hand side.
Other notable controls include touch-sensitive function keys, a Call button to activate Windows Live for full-motion web meetings (with the right hardware), a Media Center button on the right, and a Windows Start button. Microsoft keyboards currently include a Start-menu button, but this one is centrally-located under the spacebar, and pulses when the backlight is off. By clicking it, the Start menu comes up. Start typing, and Vista starts searching. A cool feature, since Search is the buzzword with Vista. Also, holding down the button and hitting the tab-key will reorganize your windows into Flip 3D, allowing the user to cycle through them until they find what they want.
There are other pieces to the keyboard, but all typical, such as battery indicator and self-destruct, you know, the usual stuff found on wireless keyboards.
All of this interfac-inating is done via the one part that actually plugs into your PC: the dock. It also does duty as a Bluetooth dongle, a charging cradle for the keyboard and mouse, and a 2-port USB hub. It's finely designed and easy enough to be thought of as out of the way until you need it, and isn't distracting at all. The keyboard slides in neatly, while the mouse can be docked for lefties or righties equally.
All in all, it's a fully-functional, fun-to-use, high-end interface package that is efficient and pleasing to the eyes and hands. The $250 price tag might be a little much for most users, but for power users or those with special needs, it's not a bad way to go. It should appear on shelves soon, and it signals the start of many new Vista-themed accessories to come.
Photo Credit: Michael Ragen

Microsoft Releases Wireless Entertainment Desktop 8000 [internal]