This holiday season we're taking a break from our usual schedule of eating candy canes to throw an event called Gizmodo Gallery. "Gizmodo Gallery?" you ask, "What's that?" It's basically the best of Gizmodo come to life, in NYC meatspace from the 4th to the 7th of December. UPDATE: I'm rolling a few device details, slowly, from our +30 artifacts, and we've just published the details for our Friday Night reader meetup and a raffle for Prizes for those who donate over $10 to Toys for Tots.
Devices:
• Ancient Apple Phone Prototypes From Frog Design
• The Red One Camera
• Weird Japanese USB Gadgets!
• The Lego Death Star
• Free Laser Etching of Your Gadgets for a day, from Make's Phil Torrone
• At Gizmodo Gallery: Draganflyer X6 UAV
• At Giz Gallery: 103-Inch Plasma
• A Back To the Future Delorean
• At Gizmodo Gallery: Tiny Projectors That Fit In Your Hand Or Mouth!
• At Gizmodo Gallery: A Never Seen Before Tokyoflash Watch
• The Full List.
We thought about how so many readers never get a chance to see the things we write about in person. We thought it would be fun to get some space in NYC, gather together our favorite things and put them on display for all who would come to visit. Then we found out we had no money because the economy. It's broken.
G/O Media may get a commission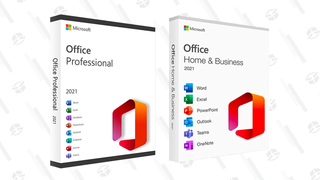 89% off
Microsoft Office Professional 2021 Lifetime License
Then we found out that our friends from Staple Design and Reed Annex would lend us their space for a few days, and our friends at Gizmine gave us a couple of bucks to pull it off, which was awfully kind of them.
So we started collecting the artifacts. One by one, people donated or lent us gear. A month later, we've got a quite a line up, including the biggest and best from this year, strange tech from the far reaches of the world and prototypes from the dawn of the electronic age. We're avoiding stuff you may already own or already see too much of, focusing instead on things you've yearned to touch but have had no chance to. Mark calls it a cross between "Ripley's Believe It or Not and a Smithsonian for gadgets." I'd just say there's going to be a lot of stuff and all of it is great.
The gallery opens this December 4th through the 7th, in NYC at REED ANNEX. What exactly will we be displaying? For now, its a secret, but every day that goes by, it seems another kind face from the gadget world shows up to loan us another amazing gizmo. If you've got weird, wonderful or monumental gadgets you'd like to loan us, space is already tight, but please drop me an email and we'll see if there's a fit. More details to come, so stay tuned.
[Thanks to REED ANNEX and thanks to our benefactor gizmine.com]
Gizmodo Gallery
Reed Annex
151 Orchard Street
New York, NY 10002
Gizmodo Gallery Reader Meetup
The reader meetup takes place across the street from the Gallery, at a place called The Annex (not to be confused with REED ANNEX where the gallery is hosted.) The address is 152 Orchard Street and we'll be there at 9 PM SHARP on Friday December 5th.
Gallery Dates:
December 4th-7th
Times:
12/4 Thursday
12-8
12/5 Friday
12-8
12/6 Saturday
11-8
12/7 Sunday
11-4
[Read more about our Gizmodo Gallery here and see what else we'll be playing with at the event.]