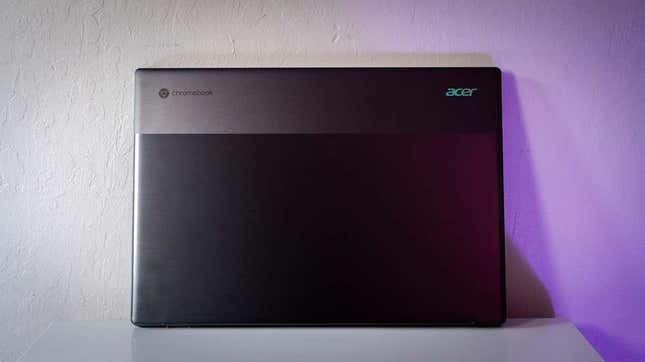 If you bought a Chromebook recently, you can now expect to hold on to it for at least a decade. Google announced Thursday that, beginning next year, any Chromebooks released in 2021 and beyond will get ten years of automatic updates. The company is also pushing for more repairability for its cloud-based laptops and more sustainable materials. It's all to ensure you stick with a Chromebook for your low-cost laptop needs. The change comes on the heels of reports of growing piles of trashed, defunct Chromebooks from schools that have no idea what to do with the e-waste.
Is Google's New $1,800 Pixel Phone Worth It? | Gizmodo Review
Previously, Google supported software updates for up to 8 years for Chrome OS. This new decade-long timeline is a nicer sell. In its post, Google emphasizes its promise is "more than any other operating system commits to today." But it fails to mention that's because the Chromebook's operating system is based on a browser. Chrome OS may have most of the fixings of desktop software like Windows and macOS, including the ability to run console-grade games, but at its core, it's a platform that performs best when connected to the internet. Unlike an aged desktop or laptop, if a Chromebook can't run its browser, it can't run.
Unfortunately, Chromebooks released before 2021 won't reap the benefits of the ten-year timeline. But you can opt-in for automatic updates for specific models, including the 2017-era Pixelbook, which I keep charged for the occasional check-in with one of the best laptops Google's ever made. You can check Google's support forums to see if your Chromebook is supported.
If your ancient Chromebook isn't on the list, Google hopes you'll be comforted by the Verified Boot feature, which checks in at start-up with a database to ensure your system hasn't been "tampered with or corrupted" by known malware. The company also encourages school IT administrators maintaining hundreds of these devices a year to consider the Chromebook Repair Program, which aids in finding parts and guides for fixing specific models.
Chromebooks are still trending well among the low-cost subset. But things are slowing down, especially since the sales fury at the height of the pandemic, when everyone needed a laptop at home to get anything done.
Will the commitment to a lengthy software update life keep schools and other individuals interested in the Chromebook long-term? That remains to be seen. For now, Google appears to be in maintenance mode as it attempts to sweeten the deal for folks who are either still considering a Chromebook or experiencing buyer's remorse. Especially as rumors ramp up that Apple may be coming for its business.